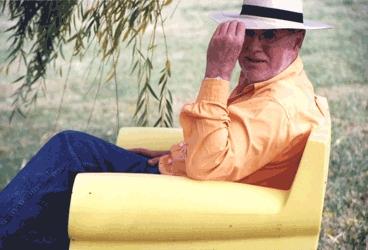 Q: Who is your favorite artist?

A: Helen Frankenthaler
Q: What client request do you most dread?
A: "I want to swim by Memorial Day!"
Q: Who or what prompted you to go into landscape architecture?
A: During my fourth year in architecture school at the University of Michigan we designed a theoretical new town. During the exercise I became more interested in the spaces between buildings than the buildings themselves. After completing my architecture degree I changed to the study of landscape architecture and pursued my interest in urban design.
Q: How important are trends in your work?
A: Not at all.
Q: Lawns — for or against?
A: Against! I've been preaching against lawns for thirty years.
Q: Name one plant that you think should be more widely used.
A: Aristolochia macrophylla (Dutchmans pipe)
Q: Where do you go to watch people?
A: Ocean Drive in South Beach, Miami Beach, Florida.
Q: Which architect, living or dead, would you most like to work with?

Q: Which contemporary designer, in any field, do you find most interesting?

A: Architect Peter Marino.
Q: What is your favorite movie-for the scenery?
A: "Giant."
For more information on James van Sweden, visit ovsla.com. You can find books by James van Sweden at amazon.com.


About James van Sweden:

James A. van Sweden graduated from the University of Michigan in 1960 with a Bachelor of Architecture degree. He then studied landscape architecture and urban design at the University at Delft, The Netherlands. His academic and professional achievements reflect multidisciplinary skills in architecture, landscape architecture, and urban design. Early in his career he worked as a town planner in Amsterdam, The Netherlands, and then as an urban designer and landscape architect for a distinguished firm in Washington, D.C. In 1975 he founded the firm of Oehme, van Sweden & Associates with Wolfgang Oehme, landscape architect and horticulturist. The partnership quickly became known for starting a revolution in landscape design called the "New American Garden" style.
Mr. van Sweden's design achievements cover a wide range of residential and nonresidential works, many of which have been honored by distinguished awards and laudatory press. His responsibilities for recent and ongoing works include the World War II Memorial on the National Mall in Washington, D.C., the Gardens of the Great Basin at the Chicago Botanic Garden in Glencoe, Illinois, the United States Embassy site in Kabul, Afghanistan, and the National Association of Realtors corporate headquarters in Washington, D.C. Other recent credits include Nelson A. Rockefeller Park on the banks of the Hudson River in New York City, the International Center embassy campus for the U.S. Department of State in Washington, D.C., and the Francis Scott Key Memorial Park in Washington's Georgetown neighborhood. His distinguished designs for residences range in scale from urban town gardens to suburban and rural estates.
Recent honors that Mr. van Sweden holds include the Massachusetts Horticultural Society's prestigious George Robert White Medal of Honor, awarded to him and Mr. Oehme in recognition of efforts to advance interest in horticulture. He also holds the Society's Thomas Roland Gold Medal. Other recent honors include the University of Michigan's Distinguished Alumni Award and the American Horticultural Society's Landscape Design Award. His honorary memberships include the Advisory Council of the National Building Museum. He lectures extensively in the United States and abroad.
Mr. van Sweden's book, Architecture in the Garden (2003) is third in a series being published by Random House. Art and the Garden is next, scheduled for release in 2006. Others in the series are Gardening with Nature (1997) and Gardening with Water (1995). Also, he and Mr. Oehme co-authored Bold Romantic Gardens: The New World Landscapes of Oehme and van Sweden (Acropolis Books, Ltd., 1990; reprinted by Spacemaker Press, 1998). It received two Awards of Excellence by the Garden Writers Association of America. Mr. van Sweden is a licensed landscape architect, a Fellow of the American Society of Landscape Architects, and a member of the American Institute of Certified Planners.