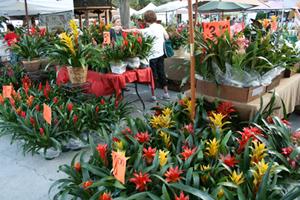 Looking to spruce up your garden this fall? Adding just a few new plant materials can boost your backyard's portfolio. With farmers markets in most any given town on weekends, chances are you won't need to look far. Here are six reasons to get out there and go local:
Local Expertise. Many local growers attend the weekly markets themselves and are more than happy to answer questions. Don't know what type of plant will flourish in that shady corner? A horticulturist experienced with native plants can point your trowel in the right direction. Guidance from people who cultivate plants near where you live can help you find options that will look good year-round.
The Price Is Right. Local growers cut out the middleman, and those savings on freight and delivery expenses are passed on to you. Don't be afraid to ask for a discount when purchasing several plants; the people helping you fill your flats are often the owners themselves.
Always in Style. Landscape-design elements and materials can go in and out of fashion just like clothing. Savvy growers have their fingers on the pulse of what's in this season.
Specialties in One Place. Think of your farmers market as a one-stop shop showcasing the best your community has to offer in new plants for your herb, container and annual gardens.
A Greener Thumb. If you're wondering whether a grower is certified organic, just ask! They can explain their practices, which might, in fact, be environmentally conscious even if not certified organic.
Return on Investment. A farmers market offers more than just plants. It's fun for the whole family and there's something for everyone — even pets! In one lap, pick up a bag of kettle corn, some organic doggie treats and a potted plant. And by supporting your farmers market, you're not only investing in your own backyard, but also in your community. And that's a perennial value.