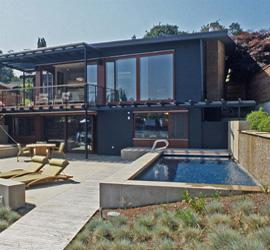 Honed surfaces bring out the color and veining of Yellow Mountain StoneWorks' Kinaro Gold Limestone while hand finishes add texture to this water feature at a private home overlooking Salmon Bay, Washington. Water cascades down a rough face carrying a scored-and-pitched finish and sunlight reflects off the smooth honed wall. Yellow Mountain collaborated closely with the landscape designer Richard Hartlage and the architect/builder Hughes Studio Architects on the installation, which required tight tolerances on the layup of the stone surrounding the filtration system and waterfall and installation by a core group of master masons.
Yellow Mountain's key clients are landscape architects whom, says YMSW partner Nicole Gelpi, "use natural stone more freely and want to try new finishes and types of stone." About the process, she added, "We build a relationship up front and then collaborate with the client to understand their aesthetic and bring them material to suit it."

Gelpi gives an overview of the process: Stone for each project is custom sourced from Chinese quarries. For instance, for the Salmon Bay project, Yellow Mountain wanted the dramatic veining that is seen on the face of the stone. They quarried a block, had a sample sent for the customer to approve, and then cut it into slabs to begin the process of cutting the shapes to build this particular water feature. "The Chinese stone industry is hundreds of years old and is very sophisticated. Typically, a shop drawing is generated for each component and then translated into Chinese and sent to China. Plastic templates are made for any piece that needs to be precise. Then, a mock up is laid out flat on the ground, photographed and sent to the landscape architect to make sure they can see where each piece goes and what the finished product looks like. This also allows them a chance to scrutinize all the details and find solutions before the stone pieces are shipped. Then, each piece is packed with detailed instructions on each crate clearly indicating the order for uncrating so that everything doesn't have to be unpacked for the mason to put the project together.
"We've been on the ground in China for about seven years now," says Gelpi. "It has served us well over time. There's a story there ?real people with whom we have relationships." yellow-mountain.net