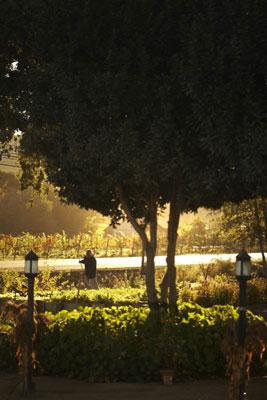 As diners with wine glasses in hand stroll through the organic restaurant garden behind Mustards Grill in Yountville, California, they might spot shoots of French fingerlings, Russian banana fingerlings, purple Peruvian fingerlings, German butterball, and Mountain Rose plants. And those are just a few of the heirloom potatoes that they'll get to taste at Mustards Grill and Cindy Pawlcyn's other restaurants, Go Fish and Cindy's Backstreet Kitchen.
When Pawlcyn first planted the garden behind Mustards Grill in the 80's the idea was for diners to see the plants that yielded the produce on their plates and drive seasonal inspiration for her dishes. With two full acres at Mustards Grill, half an acre at Go Fish and another 1.5 acres at her home, Pawlcyn grows about 20% of the produce for her restaurants. These days, throughout the three gardens, Pawlcyn plants as many heirloom varietals as she can, tracking down rare seeds from growers such as Johnny's Selected Seeds, Peaceful Valley, and Renee's Garden.
"Each heirloom has its own unique flavor and color — whether it's tomatoes, beets, pumpkin, or squash," Pawlcyn said. "All these different colors and flavors add so much to the plate but you have to balance the heirlooms with plants that produce more because often the heirlooms don't produce big crops. Also, I try to plant seeds that aren't getting used by many home gardeners or farmers."
In a time when most restaurants rely on large suppliers for their ingredients, Cindy has devoted land to growing heirloom varieties of fresh, seasonal fruits, vegetables and herbs, and sourcing products from local producers when possible. While many of today's mass-market seeds have been genetically modified to withstand sprayed pesticides or blended with other plants that may contain common allergens, heirloom varieties retain their original genetic make-up. The result is the difference between a focus on products that travel well, look great, but lack flavors and character, and truly outstanding farm fresh ingredients.
Long before chefs' gardens became a popular addition to upscale restaurants in cities across the country, Cindy Pawlcyn, the Napa Valley culinary pioneer blazed the trail at her legendary Mustards Grill. In this small corner of California eating locally is not just lip service. Inspired by fresh, aromatic produce, Chef Cindy Pawlcyn creates elegant, rustic dishes such as roasted pumpkin soup featuring three varieties of gourds freshly picked from the garden.
Cindy Pawlycn, widely recognized as a founder of wine country cooking and an early advocate of the farm to table philosophy, comes from humble beginnings in the heart of the Midwest. Her father, an avid gardener, taught her the ins and outs of growing vegetables and instilled a love of gardens and vibrant flavors of home-grown food. Cindy has carried this tradition with her throughout her life. "Everywhere I've lived I've had a garden, whether it was a window box of herbs when I lived in Chicago or the large garden at my house, I feel it's important for freshness and flavor and it brings people closer to their food," Cindy says.
Heirloom varieties unite generations, by bringing people closer to their forefathers' food. But like any historical item, heirloom plants are becoming increasingly rare and once lost these flavors will be extinct forever. The easiest way to ensure the survival of these seeds is to enjoy their amazing produce. The more consumers eat, the greater the demand will become for these products of generations past. In turn, the local farms that carry on this important heritage will gain momentum and market share.
As Pawlcyn ordered squash seeds for next year (Delicata and Black Beauty), she's asked if she'll share her sources for heirlooms. "Yes," she said, "I want everyone to find these seeds, plant them, and live better."
About Cindy Pawlcyn:
A leading advocate of farm to table country cooking, Cindy Pawlcyn has received the Robert Mondavi Award for Culinary Excellence and has been nominated twice by The James Beard Foundation for Best Chef in California. Pawlcyn is also a James Beard Award-winning cookbook author, chef-owner of Go Fish, Mustards Grill and Cindy's Backstreet Kitchen in St. Helena, and co-creator of many renowned Bay Area restaurants, including Fog City Diner, Bix, Roti, Tra Vigne, and Buckeye Roadhouse. She's also noted for her around-the-world culinary travels and extensive cookbook collection.
About Mustards Grill:
With Northern California's bountiful harvest at her fingertips, Chef Cindy Pawlcyn draws inspiration from both her extensive travels and her vast cookbook collection (4000 strong) to invent the cross-cultural combos that Mustards has been famous for during its 27 year history. From the very first menu it was clear that Pawlcyn had a unique approach. She combined grilled, locally made, house smoked ham with Jarlsberg cheese and tomato chutney for a new take on the classic ham and cheese sandwich. Other scrumptious dishes followed: Sonoma duck with tomato salsa and black beans (1988), fried calamari with curried slaw (1994), and chile marinated lamb shanks with mashed potatoes and pumpkin seed pesto (2006).
Pawlcyn's commitment to fresh, local, and hand-grown food goes beyond the norm. The housemade ketchup, served as a condiment to Mustards' famous onion rings (1983), come from her organically grown tomatoes. Mongolian pork chops (1986), tea-smoked duck (1992), and baby back ribs (1990) all get their wood-smoked goodness from the house smoker, hand-built by a German bricklayer. Persimmons, pomegranates and citrus grow on trees in Mustards' garden, one of the first organic restaurant garden plots in the country. When she doesn't grow it herself, Cindy looks to her neighborhood vendors for fruits and vegetable. Locally sourced Napa Valley blueberries, the size of marbles, show up in cobblers and crisps.
Mustards Grill is located at 7399 St. Helena Highway in Yountville, California and offers lunch and dinner seven days a week. For reservations call 707-944-2424 or visit mustardsgrill.com.
About Cindy's Backstreet Kitchen:
Cindy's Backstreet Kitchen combines a classy supper club with the flair of a speakeasy to create the perfect upscale eatery and friendly neighborhood hang-out. During the summer months diners can explore the gardens or take a seat on the patio under the shade of a 100-year-old oak tree while enjoying some of the best cocktails in the Valley. Witness the outdoor wood burning oven put to full use with popular dishes from duck to quail to roasted vegetables. With the freshest ingredients sourced from local artisan producers and her very own organic garden, Pawlcyn gives her patrons a chance to explore New Californian food as well as international flavors through the sensory pleasure of food.
On Wednesday nights at Cindy's Backstreet Kitchen, Executive Chef Darren McRonald presents a special menu from around the world in a series called the Supper Club. Inspired by the abundant local produce and rich culinary traditions of various cultures; each week showcases Cindy's exuberant love for food and travel. Seasonal dishes emerge from Pawlcyn's past voyages to Spain, Mexico, France, Italy, Greece, China, and Japan; destinations that still favor small farmers markets. Each week she invites diners to join her on an infused culinary adventure honoring the rich farm-to-table-tradition that defines high-quality Northern Californian cuisine.
Cindy's Backstreet Kitchen is located at 1327 Railroad Avenue in St. Helena, California. The restaurant is open daily from 11:30 am? 9:00 pm Sunday to Thursday, and till 9:30 pm on Friday and Saturday. For reservations please call 707-963-1200 or visit cindysbackstreetkitchen.com.
About Go Fish:
Like the children's card game it's playfully named after, Go Fish, has become a classic since its inception in 2006. From its start, Cindy Pawlcyn envisioned Go Fish as a classic West Coast fish house with a few ingenious twists, including a San Francisco-inspired raw bar, classic sushi bar and a comfortable yet elegant outdoor watering hole that lets locals and visitors alike drink and dine alfresco in true Wine Country style. Created with partners Sean Knight and Ken Tominaga, and designed by famed Napa Valley architect Howard Backen, the 220-seat restaurant delivers it all with an expansive menu that utilizes only the freshest sustainable fish and seafood that's flown in daily, as well as farm-fresh produce that's sourced regionally and augmented with the bounty from the restaurant's on-site 1/3 acre organic garden. The restaurant's extensive wine list includes a selection of whites lauded as the best in the bay area by the San Francisco Chronicle.
Go Fish is located at 641 Main Street in St. Helena and offers indoor and outdoor dining year-round in true Wine Country style seven days a week from 11:30 a.m. to 9:30 p.m. For additional information call 707-963-0700 or visit gofishrestaurant.net.