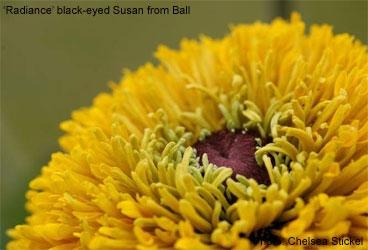 Photo by:
Chelsea Stickel
The search for great plants for Garden Design's Way Hot 100 list is an ongoing quest and we are already gearing up for 2008. Managing editor Jenny Andrews and photo editor Chelsea Stickel were on the hunt at this year's California Pack Trials.
For over 25 years growers have trotted out their latest plants each spring to entice retailers, plant brokers and industry insiders at the Pack Trials, held along the coast of California. The main emphasis for most vendors is annuals, but there are also plenty of perennials and other goodies. This year's event included over 30 companies, displaying their choicest plants, from Gilroy in the northern part of the state to Encinitas in the south.
Eager for a chance to go behind the scenes and take a peek at what's coming up in 2008, the Garden Design team decided to focus on the Santa Barbara area and hobnob with several of the heavy hitters who have brought us plenty of hot plants in past years, as well as some growers we want to know better. And we found plenty of Way-Hot-worthies:
And along the way we saw some of our old friends from past Way Hot issues — 'Black Pearl' ornamental pepper, 'Pesto Perpetuo' basil, 'Angelina' sedum, 'Yalaha' coleus, 'Blazin' Rose' iresine. Sorbet? Antique Shades viola, 'Little Prince' banana and a plant that will always make me weak in the knees, Giant Spinners? gerbera daisy.
The hunt continues!