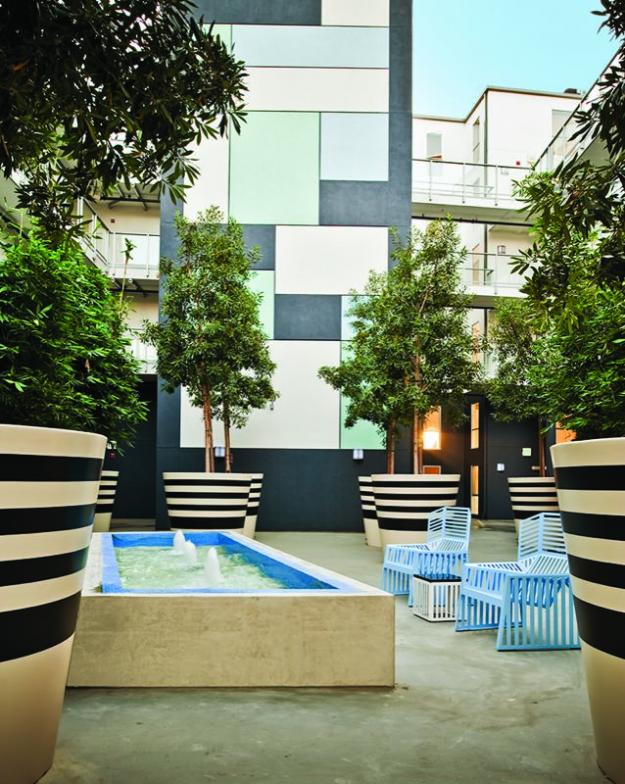 During 10 years at Los Angeles design firm Rios Clementi Hale Studios, landscape architect Mark Tessier earned his chops doing tony residential gardens, streetscapes, schoolyards and corporate campuses. Now, after four years at the head of his own office, Tessier is most jazzed about a recently finished SoCal project, the WestEnd lofts in Marina Del Rey that packs the amenities of high-end private landscapes into one geared toward the multitudes.
Q. What excited you about the WestEnd project?
A. This four-story building of 119 units is fairly plain, and the owner/developer wanted a garden as its identifying element. The central courtyard, which all the lofts open onto, is about 15,000 square feet — unusually large for high-density housing aimed at first-time homebuyers. One challenge: The courtyard sits on an underground garage, so all planting had to be in pots.
Q. Which design tool from your Rios years was especially useful here?
A. We always approached sites in an interdisciplinary way — considering walls, ground, furniture and outdoor living, not just plants — to create an overall engaging space. Here, I added "groves" of water gum trees (Tristaniopsis laurina) in giant striped containers that residents can wander among, plus four outdoor living rooms on different levels amid potted ginkgos and bamboo, several glass-mosaic fountains and LED lighting so the space can be used at night.
Q. Name some qualities you think every home garden should have.
A. Sound, movement, seasonal change. Gardens should offer places to gather that are as comfortably and stylishly furnished as the inside of the house. On this project, we mixed some Richard Schultz chairs with custom-designed pottery and Bolon woven-vinyl flooring in a cream-and-black pattern that varies depending on which outdoor room you're in.
Q. What's next on your drawing board?
A. For a house in Pacific Palisades, I've just designed a native meadow with wildflowers and sedges (Carex pansa and C. glauca) that relates to a beautiful, wild surrounding landscape. As useful as turf grass can be, I'm always frustrated that it never changes. A meadow, on the other hand, is still useful, but it blooms and moves; it's dynamic.
For more information, see marktessier.com.