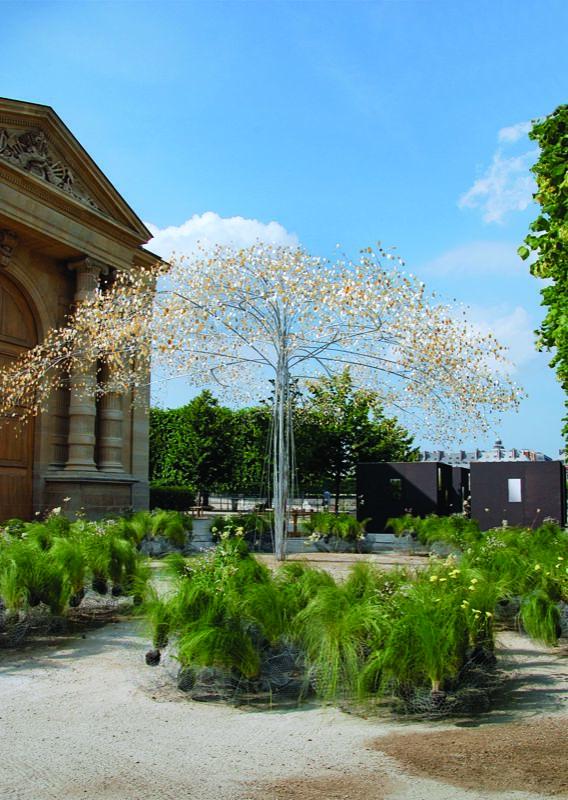 Photo by:
Stephen Jerrom/Courtesy Cao-Perrot Studio
The L.A.- and Paris-based Cao-Perrot Studio is an international partnership comprised of Vietnam-born artist Andy Cao and French landscape designer Xavier Perrot. A third partner, photographer Stephen Jerrom, documents their work: hybrid environments, or "places for dreaming," that blend landscape and art. At the Jardins, Jardin show in Paris this past year, Cao-Perrot's award-winning steel and mother-of-pearl tree (pictured) offered a moment to disengage from reality. We spoke with Xavier Perrot about the ephemeral thread that runs through all their work, from Malibu to Paris — and coming up, Texas.
Q: Why are places for dreaming important?
A: We want to give people an experience that is different from everyday life. There's no necessary logic to what we do. We take unrelated materials — like crystal drops, grass and chicken wire — and put them together. It's important to our work that you be in it, be part of it. But we don't dictate the experience; we are just trying to stimulate an emotional response.
Q: Of all the natural elements, you seem most drawn to air and light. Why?
A: Only light, combined with the right materials, gives surreal or dreamy environments. We are now focusing more on the air space. It is the less-predictable element in the landscape, and people tend to forget about it. So we explored these ideas on projects like the tree for Laurent-Perrier [at Paris' Jardins, Jardin] or "Cloud II," a residential project in Malibu. We like to use the weather in our work: How does it react during or after the rain, sunshine, wind, thunder?
Q: How did you get from Paris to Texas?
A: Temporary projects for garden festivals and events give us the opportunity to test new ideas and materials. We consider them "sketches" of permanent large-scale projects. After the tree for Laurent-Perrier, we won a public art competition for the lakeside promenade in Central Park, in the city of Grand Prairie, Texas, to be installed this summer. "The Willow Tree" will sit in the lake and have 80,000 dark, iridescent mother-of-pearl leaves catching or revealing the moods of the atmosphere.
Q: Are new materials important to you?
A: Materials that we use are neither trendy nor high tech, but very common ones that we transpose into the landscape context. It is a way to rediscover an everyday material such as chicken wire or recycled glass. We deliberately give them a handmade feel, a sense of craftsmanship, as opposed to mostly slick modern designs.
For more information, see caoperrotstudio.com.