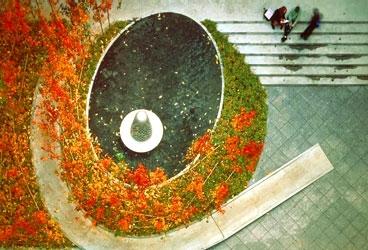 Over time, landscape architect Michael Van Valkenburgh's strategies for circulation have evolved from being part of the project to the heart of the project. The Turtle Creek garden, featured in the November/December 2004 issue of Garden Design, demonstrates this, as do three noted public projects here. All four were designed consecutively between 1990 and the present.
1990-1997, Vera List Courtyard, New School University, New York, New York (pictured): "The miniature forest of red maples is thickly planted to create an exaggerated sliver of nature," says Van Valkenburgh. The path through the "forest" is an alternative to the adjacent steps. The bold stroke also becomes a centerpiece for the courtyard.
1998-2002, Marion Square, Charleston, SC: At Marion Square, an overgrown perimeter of plants was cleared "to allow seeing in and out of the park," says the designer. The sidewalk edge is thickly planted with an array of native and tropical plants, which are a series of fluid visual destinations, not individually emphasized.
2000-2003, Fan Pier, Boston, Massachusetts: The circulation composition at Fan Pier shows a pronounced connection between design and ecology. Van Valkenburgh and principal Matt Urbanski worked with marine ecologists to remove sections of the existing seawall, creating rocky tidal pools in close view of the passageway. The point? "In collaboration with the Boston Aquarium, educational programs interpret and help extend the readaptation of harbor species," says Van Valkenburgh.
Learn more or contact the designer through mvvainc.com.