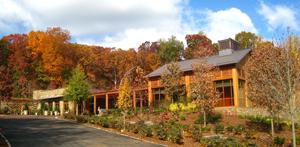 National interest in all things presidential is at an all-time high. Current books and videography have delved deep into the public and private lives of such heavy hitters as Lincoln, Adams, Jackson and Washington, balancing their mythical personas with their sometimes startlingly human traits.
One who consistently rises to the top of any list of significant players in American history is Thomas Jefferson. You might (actually, you should) know that he is the third president of the United States, the author of the Declaration of Independence and the founder of the University of Virginia. But did you know that he was also "green" minded and built his home, Monticello, to merge indoor and outdoor spaces?
If, like nearly 450,000 other people a year, you have visited Monticello, a few miles from Charlottesville, Virginia, you know the unique opportunity it affords for getting a glimpse inside Jefferson's psyche, his Renaissance-man range of interests (architecture, horticulture, science, archaeology) and his fervor for Republican ideals. Yet the complexity of the man and the striking beauty of the place might have left you wanting to know more about the rest of the story.
This spring, the new Thomas Jefferson Visitor Center and Smith Education Center, set for a grand opening on April 15 (timed in coordination with Jefferson's 266th birthday on April 13), can answer all of your questions and more. Built on the site of the former ticket office, the five-building, three-story, wood and stone compound is designed to merge into the wooded hillside. Explains Monticello spokesperson Wayne Mogielnicki, the goal was to bring previously disparate (and inadequate) facilities together in one location, while not intruding on the landscape or competing with the iconic neoclassical home.
The center is the result of a 10-year effort, along with a nationwide call for project proposals. The winning design came from Ayers/Saint/Gross Architects + Planners of Baltimore, who have a long track record with historic sites and educational institutions. For the living elements, they enlisted Michael Vergason Landscape Architects of Alexandria. The end result includes a café, four exhibition spaces, a central courtyard, plantings of native trees, shrubs and groundcovers, and a discovery room where kids are allowed to touch replicas of Jefferson's inventions and even sit on his unique bed.
In the spirit of Jeffersonian architectural innovation, the center has created easy transitions between indoors and out (Jefferson designed some of the windows at Monticello to double as doors), and optimized natural light (Monticello boasts 13 skylights). Keeping things green, the complex incorporates two green roofs, local and sustainably produced building materials, a rain garden and energy-efficient elements such as double-glazed windows. Currently Monticello is pursuing Gold Level LEED certification for the center. According to Mogielnicki, "In Jefferson's day, being green was just good common sense." Monticello after all is on a mountaintop, which made the practical Jefferson supremely conscious of water and energy conservation, and the wisdom of using local materials.
As part of the legacy of this truly modern man, the new visitor and education centers are a fitting 21st-century next step. As Mogielnicki points out, "It's amazing how the principles of Jefferson are still with us, that they still ring true." monticello.org