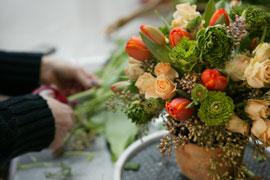 Finding a well-designed bouquet of eco-friendly flowers is easier than you think. And no, you don't have to hit up your own garden, or your neighbor's, to make it happen. Whether it's a dozen roses you're after or a full-scale event (green wedding, anyone?), there are a number of florists, markets and websites that are committed to working with sustainable buds.
In recent years, the green movement and exposés like Amy Stewart's book, Flower Confidential: The Good, the Bad, and the Beautiful in the Business of Flowers, have brought the behind-the-scenes of the commercial flower-growing industry, which includes heavy pesticide use and unfair labor practices, to light. In response, certifications are cropping up to ensure that flowers have been raised organically or by farms that practice sustainable methods that protect the well-being of both the environment and the workers. As growers reform, floral designers are following suit.
One such florist is Gardenia Organic in New York City, whose compelling business model is nothing if not ahead of the curve. Founded by Hannah Ling in 2007, Gardenia Organic takes claim to being the city's first "green" florist, and they approach sustainability from the inside out: Ling uses biodegradable cellophane, composts her flower waste and makes deliveries by way of man-powered rickshaws. Central to Ling's business are her sustainable flowers (including Organic blooms), which she sources from farms (both local and international) whose plants and practices meet the certification standards of organizations like USDA Organic and VeriFlora. VeriFlora is particularly close to Ling's heart for encompassing a broad range of issues, such as conserving water, minimizing agrochemicals, building soil fertility and fair wages for workers.
VeriFlora flowers are also popular with floral designer Christine Saunders of the Spiraled Stem Floral Design in Anaheim, CA, who specializes in big events and weddings. "It can be challenging to get every element of an arrangement organic," Saunders admits. "On a large scale, it's much easier to find quality and consistency in color and shape in VeriFlora flowers." According to Saunders, two good retail sources for VeriFlora flowers are Whole Foods Market and organicbouquet.com (the latter's flowers are also Fair Trade certified). And Whole Foods uses the Whole Trade Guarantee seal on many of its flowers, stocks some Organic and some Fair Trade flowers. Saunders notes that Costco carries Rainforest Alliance roses, and even 1-800-FLOWERS.com has a selection (albeit limited) of Fair Trade Certified bouquets.
At this point, perception might be the biggest hurdle florists face. "When people hear organic flowers they think they have to compromise," Ling says. "There is a huge variety, but it is seasonal. I can't get organic peonies in November. On the flip side, I can get local tulips and anemones; roses year-round; and, from New Jersey, some of the silkiest calla lilies you've ever seen."
More tips:
LOOK FOR LABELS
All the experts agree that consumers need to look for labels. Whole Foods stocks VeriFlora, Organic and Whole Trade Certified flowers; Costco recently committed to stocking Rainforest Alliance certified roses. wholefoods.com, costco.com
Certifications to look for:
Fair Trade Certified. transfairusa.org
FlorVerde. florverde.org
Rainforest Alliance. rainforestalliance.org
USDA Organic. usda.gov
VeriFlora. veriflora.org
FOR BIG EVENTS, GO VERIFLORA
Christine Saunders, who has designed arrangements for blue-chip events, including the Oscars and the Grammys, suggests using VeriFlora certified flowers instead of organic ones for large-scale events. "It's hard to get a large crop of organic flowers to be consistent in color and size. There tend to be imperfections. VeriFlora certified flowers are much more available on a large scale."
To learn more about planning an eco-friendly wedding, turn to Green Wedding by Mireya Navarro. mireyanavarro.com