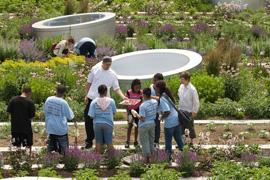 America is working up an appetite for edible gardens. And the movement is growing as homeowners, gardeners and landscape designers replace lawns and ornamental landscaping with functional yet engaging art forms of edible plants.
Schoolyards and youth centers are also embracing the idea of edibles as green classrooms that make learning about environmental awareness, organic foods and the whole seed-to-table cycle an appetizing adventure. In the Grand Crossing neighborhood of Chicago's south side, the Gary Comer Youth Center has elevated the interest of the neighborhood's children with an 8,160-square-foot green-roof grocery center.
Designed by Chicago-based Hoerr Schaudt Landscape Architects, the green roof — which crowns the building's first-floor cafeteria and gymnasium/auditorium — features a working flower and vegetable garden for the youth attending the Center's after-school programs. And the kids are really eating it up. Last year the rooftop garden produced more than 1,000 pounds of organic fruits, vegetables and herbs. This year they hope for 2,000.
Partner Peter Schaudt worked closely with the center's architect, John Ronan, and benefactor of the project, the late Gary Comer, to implement a sleek yet graphic edible roofscape. But costs for the project were skyrocketing due to a challenging free span over the gym/auditorium. The team considered whether they should proceed with the project — at least momentarily. Both Schaudt and Ronan realized that "everything is about the kids, so let's do it for the kids."
Garden beds were designed with varying soil depths from 18 to 24 inches to accommodate the sloping roof (the garden itself is level). Plastic lumber made from recycled milk containers form pathways within the garden that align with the courtyard garden's window frames.
Schaudt also recommended that the Center employ a full-time garden manager to develop educational programs and help the garden succeed. "Marjorie Hess has done such great things with the kids and in making the garden happen," Schaudt says. Two of Hess' current programs at the garden are Farm to Fork, an urban-farming program, and Comer Rooftop Crops takes kids from garden to table for an enterprising education where the rooftop produce is harvested and sold to area restaurants.
While the Chicago edible roofscape is a flourishing success, Ryan Meyers of Ryan Meyers Design has cleverly carved out a winning edible California landscape fashioned in the forest-gardening style. Also known as three-dimensional gardening, the technique mimics a woodland ecosystem through a harmonious mingling of edible plants grown on multiple levels.
Designed as stair-stepping platforms of pathways and stone-wall beds, Meyers has ingeniously integrated the layered edible garden within the one-acre hillside slope. The view from the top is quite dramatic — much like gazing upon on a multifaceted gem flaunting layers of colors and textural contours.
The garden features more than 1,000 linear feet of pathways with hairpin curves, 200 tons of drystack natural stone walls and 100 flagstone steps. Some 60 different perennial edible varieties flourish on the hillside oasis, including fresh culinary herbs and enticing exotics like pineapple and strawberry guavas, blood and mandarin oranges, figs, and Asian pears, along with Mexicola avocados, artichokes and chard. Asparagus, strawberries and other low-growing edibles were positioned on the upper edge of the path to keep things within easy reach of picking. Fruited trees thrive on the pathway's lower edge for an easy harvest height as well.
Meyers also created a synergistic ecosystem by integrating beneficial insectary plants — such as fennel, cilantro, dill and yarrow — to increase pollen and nectar sources to attract beneficial insects with a hearty appetite for bad bugs. "The garden is located in the midst of an organic vineyard," he explains. "The idea is that this beneficial insect habitat could also serve the vineyard well and attract pollinators to the region."
To Taste: Four More Kitchen Gardens

WE Garden in Capitol Park: The grounds of California's State Capitol is serving up its first edible garden. The 800-square-foot demonstration garden includes workable water-saving solutions: a drip system with drip pressure compensating emitters and a rotating low-precipitation nozzle for potential water savings of up to 30 percent.
The Edible Schoolyard: A seed was planted more than a decade ago as restaurateur Alice Waters' Chez Panisse Foundation cultivated a vision for an interactive garden classroom for students at an abandoned lot adjacent to a middle school in Berkeley, Calfornia. The thriving acre of cultivated crops still educates and inspires children about agriculture, science, community and healthy living, and teases their taste buds with deliciously healthy meals.
The Edible Gardens: Started in 2005, maintained by the Green City Market and located in Chicago's Lincoln Park Zoo, the garden's mission is to provide inspiration, experience and education for a sustainable food system. The larger demonstration garden showcases several composting systems, raised beds and season-extension techniques.
The Edible Garden at Atlanta Botanical Garden: A former parking lot will soon be taken over by herbs, edible flowers, fruits and veggies from around the world. Set to open in the spring of 2010, the new garden located at Georgia's Atlanta Botanical Garden will also feature container plantings, arbors and allées. And who can resist the cooking-demonstration kitchen and amphitheater where gourmet chefs work their culinary magic?