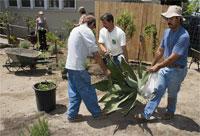 Rushing past my flat in San Francisco's Mission District, there is a double-lane stream of freeway-bound traffic. Until recently, a solid concrete median, about 2 feet wide, kept northbound and southbound cars apart. Though this is a residential area filled with families, it felt like a freeway onramp.
A group of neighbors got together to plant a linear garden in the middle of this strip-studies show that planted medians slow down traffic-and make our street more beautiful. When the neighbors asked me to do a pro-bono design, I was thrilled. The opportunity to design a public garden is a treat, and the experience of working with my neighbors to get the gardens planted has enriched my life greatly.
Luckily for me, our neighborhood association, The San Jose/Guerrero Coalition, is a dedicated bunch. They raised the money required to create the gardens. They worked with the city to get permits and arrange for concrete removal to expose the soil, last exposed to the sun sometime in the 1950s. Volunteers assembled early on a Saturday a year ago with an overflow crowd ready for instruction.
Homeowners, apartment-dwellers and business owners all jumped at the opportunity to get dirty and plant. These people have busy lives, yet everyone wanted to give time to make something beautiful and alive together. A jazz trio volunteered to entertain and the local businesses donated refreshment.
A garden growing between asphalt lanes in our cool Mediterranean climate must be durable, and the added expense of providing irrigation would have made our project prohibitively expensive. I loved the challenge of creating gardens that would thrive with minimal maintenance and no supplemental water. The garden is now a living testament to the beauty of tough, water sparing plants.
The first block was a huge success, and we have planted four additional blocks in the following months. Neighbors from all over the city are calling to find out how they can get a garden like ours for their neighborhood. The garden serves as a calling card for our nursery. Clients come through the door every day wanting a garden "that looks just like the one you put in on Guerrero Street." It's become a public garden unique in San Francisco not only for its composition, but also for the dedication of the neighbors who put it in and now tend to it faithfully.