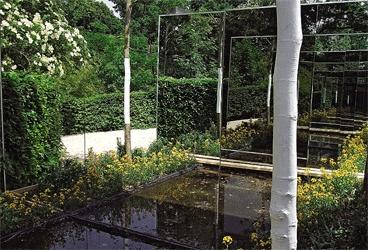 When Mitnick Roddier Hicks designed a garden for the 2007 International Garden Festival, held in Chaumont-sur-Loire, France, the event's theme — mobility — ended up being addressed at its most literal. No symbolic moving parts, multi-tasking spaces or travel-inspired nuances for this dream team's landscape concept: Theirs is the only plan among the competition's winning entries that invites exploration of ways a garden itself can be picked up and moved. The portable allée, made infinite thanks to strategically placed mirrors, garnered the Ann Arbor, Michigan, firm coveted exhibit space (sponsored in part by Garden Design magazine) at the annual festival. The event, held through October 14, 2007 on the grounds of a 15th-century chateau, featured 26 cutting-edge display gardens by designers who won the "Mobiles! Gardens for a World in Motion" global challenge.
Mitnick Roddier Hicks comprises architects Keith Mitnick, Mireille Roddier and Stewart Hicks, who are also University of Michigan academicians. They were one of the few winning teams composed primarily of building, rather than landscape, designers and the only exhibitor from the United States. "For us, there isn't much interest in defining things as 'sculpture,' 'architecture' or 'landscape,'" Mitnick explains. "We have a set of ideas that we like to explore in different contexts, and we're happy to adapt them to whatever opportunities we encounter."
From any angle, Mitnick Roddier Hicks' semi-permanent installation (the festival lasts almost six months each year) defines itself through internal tensions. It blurs the lines between the opposing notions of formality and naturalism, luxury and frugality, endurance and the ephemeral. Gaining recognition for "deftly exploring the experience of framed views and spaces," as Architecture Record put it in 2005 when it named MRH among the year's 10 Design Vanguards, the firm has focused mostly on residential projects that share a likeness in thesis and style with their work at Chaumont. "We've recently built a folly at a museum in Tulsa and a new house in Ohio that have much in common conceptually and formally, even though they are very different types of work," Mitnick says, noting the same is true of the festival project, "where the conceptual ideas precede any presumptions about 'type' and traditional definitions about what distinguishes one design discipline from another."
Their design for Etant Donné, named from French-born dada artist Marcel Duchamp's final masterpiece, is a conceptual "stroll garden to go," an imagined strip of designed landscape that can be rolled out onto any reasonably flat real estate in need of a little greening. (Mitnick reports that few other festival projects are similarly conceptually driven, to him a surprising trend at an event he calls "a fantastic venue for experimental work.") The nomadic garden idea evolved after first considering the mobility theme's "obvious answers and trying to avoid them," says Roddier, a native of France who's an architect with a landscape architecture background who had hoped to someday show at Chaumont. "Instead, we looked for the loopholes."
The Etant Donné garden braids classic French formality with natural woodsy elements. André Le Nôtre's take on the painterly vanishing point is exemplified to the nth degree with mirrored walls that bookend a sycamore allée, making it appear endless. A peephole, inspired by the ones Duchamp used in his life-size diorama, hides the viewer's reflection so it won't destroy the illusion. "The mirrors were not the goal; they are simply the artifice," Roddier notes. White gravel on paths creates contrasting void, and still water framed in a rectilinear basin provides a horizontal reflecting plane for overhead foliage and the changing sky. (The one-inch-deep black-gravel-bottom pool, which gives the impression of a river running through the allée, was one of the installation's trickier parts; the steel basin had to be perfectly fabricated and placed exactly level, a task festival workmen handled with aplomb.)
The design operates on four main levels: the "real" garden, with tangible architecture and plantings; the image of a garden, as seen in the shadowy blue-black and white winter-scene photomural (taken in a woodland in Michigan); the illusion of a garden, as reflected in mirrors; and the imagery of a garden — one in which people and nature provide animation — that can be transported to a parking lot or other dismal urban space. No garden is static. But dig deeper into Etant Donné — a moveable feast for the senses — and you'll uncover more layers of contrast and moving symbolism.
For more information, see chaumont-jardins.com or mitnickroddierhicks.com.