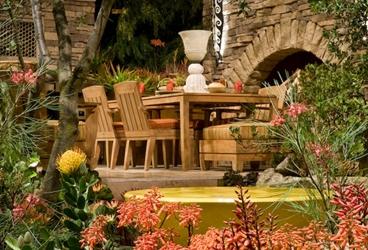 Press Release — April 10, 2008
Garden Design magazine collected five awards, the most among 22 garden entries, for its display "Living on the Edge" at the 2008 San Francisco Flower and Garden Show.
Thousands of garden enthusiasts walked through the exterior space created by Garden Design and its partners: designers Davis Dalbok of Living Green and Tim O'Shea of Greenworks Design, and builder Rock & Rose Landscapes. This year's theme, "Living on the Edge," featured a California coastal canyon outdoor retreat, incorporating modern touches that were custom-tailored to provide a serene garden atmosphere for the ultimate in rest and renewal.
The following are the awards Garden Design and its team won:
Gold Medal
California Association of Nurseries & Garden Centers Award
California Landscape Contractors Association Award
Pacific Horticulture Magazine Award
American Horticultural Society Environmental Award
Garden Design Publisher Diane Turner was thrilled with the response the garden received from both judges and show attendees alike. "This is our third year taking part in the San Francisco Flower and Garden Show and I have had more people tell me that they walked away from it with numerous ideas for their own exterior spaces. That's a very gratifying feeling to know that we are inspiring our audience to that level."
Garden Design's garden sponsors included Sundance Spas, Eldorado Stone, Kalamazoo Outdoor Gourmet, Brown Jordan, Birth of Venus, Natural Stone Water Sculptures, Bamboo Pipeline, Broadmoor Landscape Supply, Succulent Gardens and One Step Travertine.
For more on this event see this ABC News video.