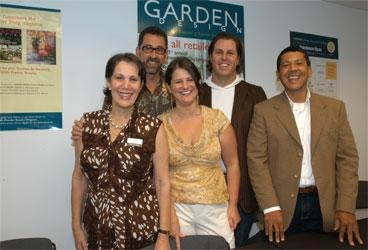 As a media sponsor of the 2006 International Casual Furnishings and Accessories Market at Chicago's Merchandise Mart, Garden Design magazine hosted a panel of experts to address issues in exterior design. Moderated by style editor Donna Dorian, the panel included Craig Bergmann, an expert plantsman with 25 years design experience; Janice Feldman, founder and CEO of Janus et Cie in Los Angeles, an upscale outdoor furnishings dealer with seven American showrooms; Jason Champion, owner and creative director of Design Kollection, a dealer in innovative outdoor furniture lines based in Florida; and Guillermo Castellanos of Evanston, Ill., a landscape architect and designer of the 2006 Cottage Living Idea Home garden. They discussed the distinctions between the roles of interior, exterior and landscape designers, and the use of new materials and products in the garden.
Exterior design experts say designers and retailers competing in the outdoor living rush face a new and challenging frontier: a market populated with Google-savvy consumers. Technology has brought about advances in outdoor décor ? durable fabrics that shrug off the elements and furniture made of sustainable materials, for example ? but the Information Age has also born the Internet and computer search engines. Potential exterior design customers are scouring the world for garden and patio products and inspiration without ever leaving their own back yards.
"You can get anything if you know how to Google," Craig Bergmann, a top Chicago area garden designer, said during a panel discussion on outdoor living trends. "Think of all the options available just in umbrella bases, for example."
Nowadays, when it comes to designing exterior spaces, "the sky's the limit, not a set of glass sliding doors," said Champion.
Feldman noted there is a niche burgeoning between the field of interior designers and that of landscape architects, who "typically don't have the same education about how we live in spaces," she said. "And while there is a crossover, I see a tremendous business opportunity for people who choose to focus on exterior design."
Castellanos said that outdoor living spaces should be considered "extensions of the house" and he noted that landscape architects??the professionals called in for grounds planning and not usually furniture and fabric choices?should not be thrown out of the outdoor room design mix because they bring with them historical and even urban-planning perspectives.
Bergmann agreed. He advocated a team approach to exterior design. "If I don't know something, I'd certainly bring in someone who does," he said.
Photo, from left to right: Janice Feldman, Craig Bergmann, publisher Diane Turner, Jason Champion and Guillermo Castellanos.