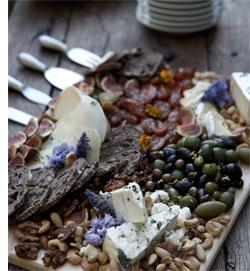 Building a beautiful, well-balanced cheese course can make even a savvy gourmand sweat. The choices are astounding. Where to start? We were so inspired by the cheeseboard served at Rudd Oakville Estate (as seen in Garden Design, "A Midsummer Night's Dream," July/August 2009) that we decided to ask Dean & DeLuca Corporate Executive Chef Paul Marshall for his tips on creating your own.
Where to start:
Build a cheese board around a theme, such as a particular region of a country. For instance, all Lancashire (Britain) or Hudson River Valley (New York State). Within the region, select cheeses with totally different tastes, textures and flavor profiles. You can't go wrong by complementing with beer and/or wine from the same region.

Or, start with one soft cheese, such as a triple cream or Camembert. Then go to one firm, such as a farmhouse cheddar or asiago. And then add a blue-veined cheese, perhaps a Maytag or Roquefort. To expand on those, add a spreadable cheese, such as a chevre (goat cheese), for a surprise.
Chef Marshall's can't-miss cheeses:
Coach Farms (same place that makes Coach handbags) in the Hudson Valley makes a triple-cream goat cheese that is out of this world.

Grafton is known for their aged and flavored cheddars. They age them for one to four years and create interesting profiles, such as sage and a maple smoke. They've been around for more than 100 years.

Cabot Cheddar was the world's best cheddar back in 2006.

Look for artisanal cheeses from regions near to you.
Accoutrements:
Serve with dried fruits such as sundried apricots or cranberries (these go best with veined and cheddar cheese).

I find that nuts and fruits such as apples or fresh cherries go great with brie.

You can flesh out a country theme by focusing on the accoutrements. For a Spanish theme, you'll want to add savory sides: nice Spanish olives, pickled vegetables such as gherkins, artichoke hearts and peppers, and lightly roasted macadamia nuts. You can pair this with all domestic cheeses that go well with savory flavors and then serve with appropriate Spanish wines.

Wines: Sauvignon blancs and pinot noirs go well with milder cheeses. The stronger cheeses and veined cheeses go well with Sauternes and Port. Aged cheeses can go with a full-body grape such as a Zinfandel or Burgundy. When in doubt, a wine of the region is a great accompaniment to any cheese.

Crackers shouldn't be too strong or salty. Pepperidge Farms makes a good cracker that is low in salt. Breads are great: French, grainy, a tangy sourdough, flavored with black cracked pepper. Slice just before serving. If the loaf is large, split it. A good rule of thumb is that each slice should be no more than two bites.
Planning and Serving Tips:
As an appetizer or a course, plan for 70 grams (about 2 ½ ounces) per person. This way, you can buy quality and still stick to a budget.

A wood board provides a traditional background for your composition. A slab of marble provides an elegant and clean finish and allows the colors and textures of your cheeses to really pop.

Remove all the wrappers and foils from the cheeses before serving.

Never remove the rinds.

To obtain the optimal flavor, allow the cheese to come to room temperature (60-72 degrees) before serving.
Serve each cheese with its own knife. "Not doing so is a bad faux pas," says Marshall. "My grandmother taught me that when I was a kid in Louisiana."