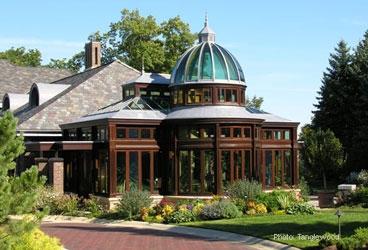 Photo by:
Tanglewood Conservatories
Learning about Longwood's new East Conservatory in Garden Design's Jan/Feb issue just rekindled my long-held desire to have my own greenhouse. There I could keep favorite tender plants safe and warm through the cold months or start my tomatoes early (ahead of all my neighbors) or explore the world of orchids. A greenhouse is an oasis and the perfect place to putter on a dreary day. It extends the season not only for the garden, but the gardener as well.
A greenhouse can be purely functional, but it can also be decorative, both inside and out. It can even be beautiful enough to double as a feature in the garden. Another option is a conservatory, which can extend the living space of the house.
Many, many styles of greenhouses and conservatories are available these days, from gothic to modern (even geodesic domes). And there's a variety of materials to choose from for framing (wood, metal, plastic) and glazing (glass, plastic, fiberglass). Before buying a structure consider these things:
How will it be used — just to grow plants or also as a living space?
What do you want to grow?
How much space do you need? (FYI, you'll need more than you think)
How much money are you willing to spend for the initial purchase and for upkeep?
Once you've determined what you want, you'll need to find just the right location. Optimally a greenhouse should be placed on level ground (with good drainage), with good light exposure (situating it with the long side facing south is best, but east or west can also work) and with a windbreak on the side of the prevailing winds. It will also need access to electricity and water.
A greenhouse or a conservatory can be extremely rewarding — there's nothing like picking tender salad greens or cutting a fragrant bouquet in the dead of winter. But it's important to provide the proper systems so it will function correctly. Remember to include the following in your greenhouse plans:
ventilation
heating
cooling
water
air circulation
For more information on owning your own greenhouse, contact the Hobby Greenhouse Association or visit the websites of Clemson University Extension and the Alabama Cooperative Extension Service. To see a sampling of the wide selection of greenhouses and conservatories available, visit the following: