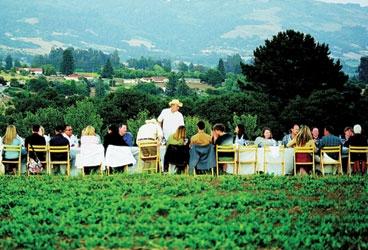 Photo by:
courtesy of Outstanding in the Field
Jim Denevan—who favors flip-flops, no shirt whenever possible, straw sun hats and surfing near his Santa Cruz, California, home—is becoming internationally known for his dual vocations as artist and chef, which are for him one and the same.
Denevan began his culinary adventures—which eventually led him back to the garden—in his early 20s, when after a brief stint in Milan as a fashion model, he chose cooking instead, primarily because he could work by night and surf by day. By 1992, he was back at home in California, surfing the waves, cooking at Gabriella Café in Santa Cruz, and feeling the culinary tremors that Alice Waters and her Berkeley-based restaurant, Chez Panisse, set off through California and points beyond.
As chef at Gabriella Café, Denevan (still very much under the influence of his older brother, Bill, at whose Santa Cruz organic farm he had come of age) soon became known for his commitment to the land, local farming, and local ingredients. Befriending farmers, winemakers, and the foragers, he invited them to bring in their wines and haul in their baskets of found mushrooms and greens, which he showcased in his farm dinner menus at the café.
In 1999, he took a leap forward when, while still working for Gabriella Café, he staged a dinner at Mariquita Farm, in nearby Corallitos, to which he invited not just clients and foodies from the cafe, but also the workers and purveyors responsible for the ingredients. His aim was to conceptually link the dining table to the garden and farm. And so he situated one long table covered with a white cloth, smack in the middle of the row-crops, tomatoes, and beans. Guests, some unfamiliar with what high heels do in soil, toured the farm, then dined together on a five-course meal among the vegetables, the meal punctuated by storytelling from the growers and laborers.
The idea took hold, and Denevan began to search out locations to produce a series of unique and locally situated and sourced dinner events he would call "Outstanding in the Field." First in Northern California, now national and international in scope, the one-off has fast become a cottage industry and matured into events that Denevan thinks of as ephemeral art, nothing less than site-specific installations, in settings he scouts with a curator's eye. For each dinner, he collaborates with a regional chef, often renown, who lends his or her own culinary sophistication with local ingredients.
Denevan has since left the restaurant to work full-time with his team at Outstanding in the Field, at an astonishing clip of a dinner per week during local harvest seasons, producing more than 80 Outstanding dinners to date. He and his merry band of six collaborators travel the continent in a bulbous, tricked-out 1953 Flxible bus (dubbed "Outstanding," of course). Denevan bought the bus online for $7,000, and whether overheating in the Rockies or blowing flats in the Finger Lakes, it has provided no end of stories to tell. Behind it they tow a trailer full of the essentials: 100 folding pine chairs, 80 feet of folding tables, and specialized kitchen gear.
Denevan's message is reverence for local foods, the land, and those who tend it. His focus is somewhat aligned with the Slow Food movement, which, like Outstanding in the Field, is about experiencing the pleasures and taste of fresh food, and shortening the distance—both literally and figuratively—that food travels to get to each of us. The slow-food movement, though, emphasizes its message: knowing where food actually originates affects the choices we make each time each time we eat. But for Denevan, it's all about the experience. No matter where he travels, he works hard to make each Outstanding event a real adventure story into the place and the culture that creates the food he serves. His dinner scenes are abstract visual works, offering images of a distinctive landscape, every time bisected with the same clean, white line of a cloth-covered table. The cloth-covered gathering table is the chef-artist's visual constant.
Photographically documenting most of the dinners in their landscape, he has included some of his pictures in his recent book, Outstanding in the Field, which as part cookbook and part guide to regional farms, celebrates the art of farming, eating, and really good cooking.
In 1996—several years before he hosted his first outdoor dinner at Marquita Farm—Denevan also began experimenting with a new form of land art "drawing," which has become, like the Outstanding dinners, a medium and genre in itself. As he does with the dinner-table settings set in a field, he imagines a secluded winter-wet beach as his "canvas," on which he draws with a "pencil" (simply a piece of found driftwood) which at 5 feet, 9 or 10 inches, fits his 6-foot, 4-inch frame like the perfect dance partner. Dragging it along as he walks, he creates vast drawings, as much as a mile across, while working against the clock before the incoming tides inexorably erase it all. Only from above do they reveal themselves as graphic and mysterious patterns of incredible precision. For him, the process recalls the colorful sand mandala sacred-drawings made by Tibetan Buddhist monks—which is a form of meditative practice, or some would say, prayer.
They've even staged an Outstanding in the Field dinner in Florence, Italy, in an art museum in conjunction with a menswear show. There a serpentine dinner table, which was a work of art in itself, curved through the grand gallery to the feet of a copy of Michelangelo's David, where it became a gathering place for a traditional Tuscan meal that introduced fashion sophisticate to pig farmer.
Denevan has also spent two days incommunicado in the Grand Canyon, scouting locations. On a dry lake-bed site in northern Nevada, 8 by 16 miles, he drew circles more than one mile in diameter in preparation for a work that will be easily seen from the airplanes above.
More recently, an ocean away from the site of the first Outstanding in the Field dinner at Mariquita Farm, Denevan scouted a fjord in Kulusuk, Greenland (population: some 300; gravel runway), for the perfect iceberg. Denevan, who has been named one of Absolut's Visionaries, has curated the site for a remote and frosty dinner scheduled for late June, sponsored by the vodka brand. There, guests clad in unicolor parkas will be shuttled to perhaps the "coolest" Outstanding in the Field event. Denevan says he hopes for a custom, site-specific table, also fashioned from ice. A truly locally sourced menu might be vegetarian-light, and seafood-heavy. To wash it down, one would hope for a generous vodka toast, or two, to the artist, chef, and surfer from Santa Cruz.