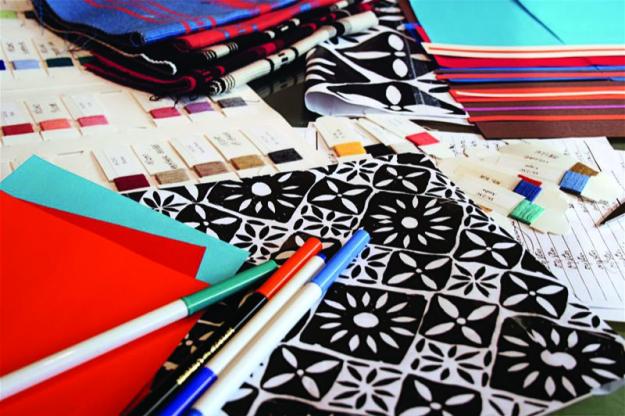 Photo by:
Courtesy Sina Pearson
Textile designer Sina Pearson lives and works in SoHo, but it is her travels — especially to her garden in Washington — that inspire the saturated stripes and vibrant abstracts of her outdoor lines. Every month she escapes to her remote island home that's surrounded by a semiwild garden (and adjacent to the 1950s A-frame beach house of her childhood). Idea-gathering sojourns to locales such as Sweden and Mexico also inspire the designer's high-performing textiles for residences, hotels, restaurants, offices and outdoor settings. Her newest collection, out next spring, is called Colores de Mexico. Its influence? The orange-striped, hand-woven curtains that once hung in the family's island home. "It has an ethnic, modernist vibe with a serapelike texture," she says.
Q. Tell me about your Fidalgo Island garden.
A. I could not be doing what I'm doing if I didn't have my garden. It frees my soul and lets me experiment with weaving colors and textures together. I've always maintained that you have to listen to what the fabric wants to be — it's a wonderfully slow process. Similarly, I observe how each plant works together, how each season is revealed in flower, foliage and blade.

Q. What influences you?
A. I can't separate how I've grown up from what I am now. My parents were so visual. My mother was a landscape designer and my father was a photographer. We had Jack Lenor Larsen's textiles in our house. I cannot remember a time when I was not playing with fabric.

Q. How have you re-imagined outdoor fabric?
A. I want to invigorate outdoor fabrics with modern designs. I'm a big proponent of mixing cool and warm colors together. I also like neutrals — sage, taupe, midtone brown — paired with brighter colors to give a reference to nature.

Q. What is on your drafting table?
A. Little piles of yarn in brighter palettes inspired by summer's clean, crisp colors. I'm playing with simple shapes, hand-cutting paper into geometric forms, stripes and flowers. I find it very satisfying. I look like a second-grader, sitting on the floor cutting out bits and pieces.
Not a design professional? Enid Ford Atelier in the San Francisco Design Center and MUSEO in Kansas City, Missouri, sell Sina Pearson Textiles directly to consumers. See the entire collection at sinapearson.com.