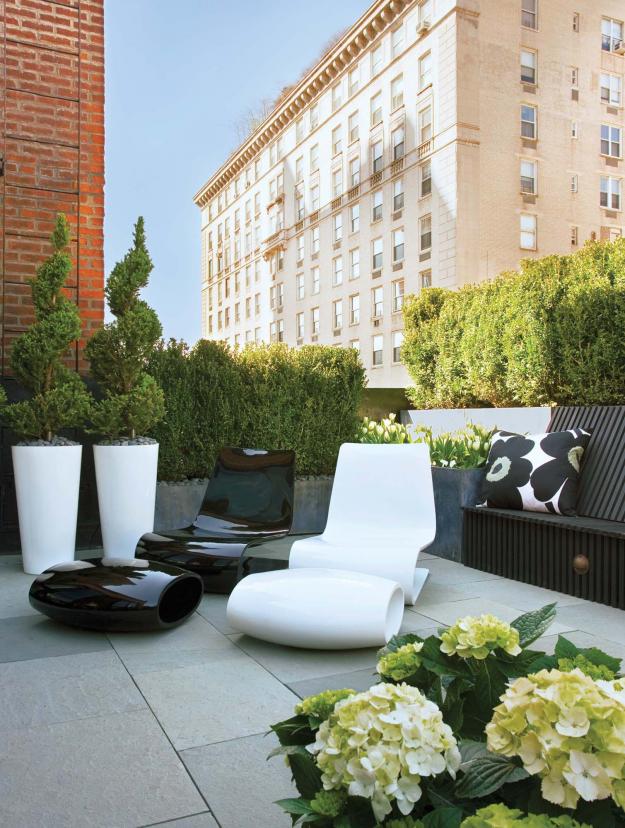 There is always time to celebrate a new talent in New York — it's one of the many things that the city does best. In 2008 the buzz was about Daniel Richards, the young Aussie who joined the New York City-based landscape design firm Plant Specialists. Come see what the talk is all about:
GD: What brought you from Sydney to New York?
DR: To become senior designer for New York's Plant Specialists. At the forefront of green roof design, and one of the oldest and largest firms specializing in Manhattan rooftops, they wanted to expand into the estate side of the business, which was my specialty in Sydney.
GD: You made your New York debut at the Kips Bay Decorator Show House last year. Tell us about that.
DR: Kips Bay has always been very traditional and conservative, but we made a strategic decision to break the mold — particularly because this was the first time it had ever taken an outdoor space seriously. We named our terrace "Traditional With a Twist," and animated it with sculptural furniture from the Italian manufacturer Porro, bluestone paving, lead-coated copper planters and glass resin pots. Then I surrounded the terrace with box hedging, which I opened at strategic moments to take advantage of the views.
GD: There is the New York/L.A. connection, the New York/Paris connection. For you, it's the New York/Sydney connection. What projects do you have in the works on the Southern Continent?
DR: Pitching the redesign of the landscape of Iona — one of Sydney's most historic houses.
GD: What do American landscape designers need to learn from their Australian cousins?
DR: To keep it simple. In spring, New York is plagued by the confetti effect — of mixing too many species. I believe in planting one thing for impact. Design, refine and then repeat — that's how you get the wow factor.
GD: What do Australians need to learn from us?
DR: Trust professional advice.
GD: How do you spend your time during the long 24-hour flight to Sydney?
DR: I take four sleeping pills, order four gin and tonics, and read as many magazines as possible.
For more information see plantspecialists.com.