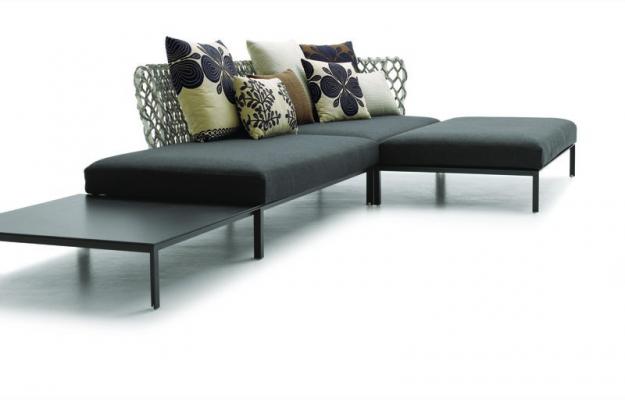 Photo by:
Courtesy B&B Italia
Over the past ten years, the Spanish-born, Milan-based Patricia Urquiola has emerged as the exhilarating new diva of contemporary design. In that short time, she has put her stamp on everything from furniture to rugs — for both indoors and out — for the likes of Valentino, Hermès and Knoll. Last year alone she debuted new lines of outdoor furniture for Moroso, B&B Italia and emu, added a plastic chair to the ever-edgy Kartell and designed a studio line of porcelain for Rosenthal. No one is surprised that at 48, she has already seen three of her pieces (Bague Table Lamp by Foscarini and the Fjord Armchair and Foot Stool by Moroso) enter the collection of the Museum of Modern Art in New York.
In whatever one endeavors, it's essential to know thyself, and Urquiola decidedly does. Coming of age under the tutelage of Achille Castiglioni (raise your hand if you remember his hilarious stool fixed with a tractor seat), she carved out a place for herself within the grand tradition of Italian design, while placing the feminine sensibility smack down into the middle of its he-man vocabulary. But don't be mistaken: It's not that she is out on some feminist mission (although there's nothing wrong with that), but rather, she is moved by what she calls the "domestic memory" of everyday objects and beckons those memories — in all their many guises — to center stage of contemporary design.
Urquiola thinks of herself as having had a slow start in her career, spending years studying and then teaching at the prestigious Politecnico di Milano where she worked as an assistant professor. Starting in 1990 she designed for De Padova, where she co-designed a range of objects with another giant of Italian design, Vico Magistretti (the mastermind of the first one-piece plastic chair). Beginning in 1993, she designed showrooms and restaurants until 1996, when she became the head of the Lissoni Associati, where she developed furniture for many of Italy's top furniture firms, including Cappellini and Cassina. Then in 1998, she took a maquette of a sofa to Patrizia Moroso — whose eponymous firm is among the leaders of progressive Italian furniture design. Immediately recognizing Urquiola's towering, unique talent, Moroso ushered the design through, and before long, the Step sofa (a low-lying indoor piece that included a backrest that could be "stepped up" higher or lower) debuted at the Saloni Milano — and Urquiola's name went up in lights. By 40, having trained and worked alongside the best of the best, she felt more than ready to go out on her own.
Think of Urquiola's feminine sensibility as a kind of curative. For the most part, design in the 20th century has been consumed with a fascination with industrial materials. But what was lost in the getting was the handmade craftsmanship that the 19th-century Arts and Crafts Movement worked so tirelessly to preserve, and it is precisely those handmade qualities that Urquiola works to revive. "Wherever I go," she says, "I make a point of visiting craft museums, because I'm always interested in things made by people."
Consider her 2007 collection for B&B Italia, the first-ever outdoor line offered by the firm for the U.S. market. Although Urquiola followed the directive to make the collection in weather-resistant polyethylene fiber, to her the material just didn't look natural. So she sent B&B photographs of baskets woven in the classic geometric Vienna Straw pattern and suggested that they blow up the weave to a massive scale. The big, open weave made the material self-evident, and the line took on the name Canasta, which means "basket" in Spanish.
Just as important was that Urquiola, working side by side with B&B's head of research and development, Federico Busnelli, looked to Filipino craftsmen to develop its woven-textured upholstery. So while the components of the very hip, neo-'60s Canasta collection were manufactured with the newest manufacturing technologies, the collection also drew on age-old weaving techniques. With a lineage derived from both ancient and modern techniques, it took on a stunning mixed-breed look — at once totally recognizable and yet completely new. Its making reflects a global consciousness: A fusion of contemporary design with history and culture, it stimulates a Third World economy while showcasing the talents of local artisans alongside the designer's own. Urquiola and Busnelli furthered the process and the look for B&B's 2009 Collection Ravel, when this time they invited Filipino weavers to develop seat backs based on a riff of the common fishnet pattern.
"When I was little, we used natural materials outdoors," says Urquiola, again evoking her fond memories of home. (But please, make no bones about it: As Patrizia Moroso says, Urquiola's work is very strong, it is never "nice.") "Too bad, maybe we will go back to that, but the new materials are more resistant to weather," continues Urquiola, referring to the polyethylene fibers that now play such a big role in the making of outdoor furniture today. If she hasn't yet unearthed a suitable natural material for outdoor furniture, she is getting closer all the time. One design in the works for Moroso woven by Senegalese craftsmen creates traditional herringbone patterns from nylon yarn left over from the local fishing industry. "I'm just a melting pot," confesses Urquiola. Mixing high and low, you've got to call her the Versace of furniture design.
It's easy to think of Urquiola as a kind of textile historian — an idea that comes to mind when ogling the award-winning outdoor rug Crochet she co-designed for Paola Lenti. Designed to look like an oversize flower (again it's that neo-'60s, Pop Art look), it is made from state-of-the-art rope yarn fibers and literally crocheted together by hand. It's a classic Urquiola move. Combining an artisan's techniques with modern materials, it concludes in a rug that is a true glamour queen, both old-fashioned and totally chic, and completely durable for outdoor living.
If you see a common thread from design to design, don't get to thinking there is an "Urquiola look" — unless you see enthusiasm and a playful, ironic wit as a signature style (better to acknowledge all that as the heartbeat of Italian design). Rather, she has a real knack for successful relationships — and giving back to each company she works for with something each can call its own.