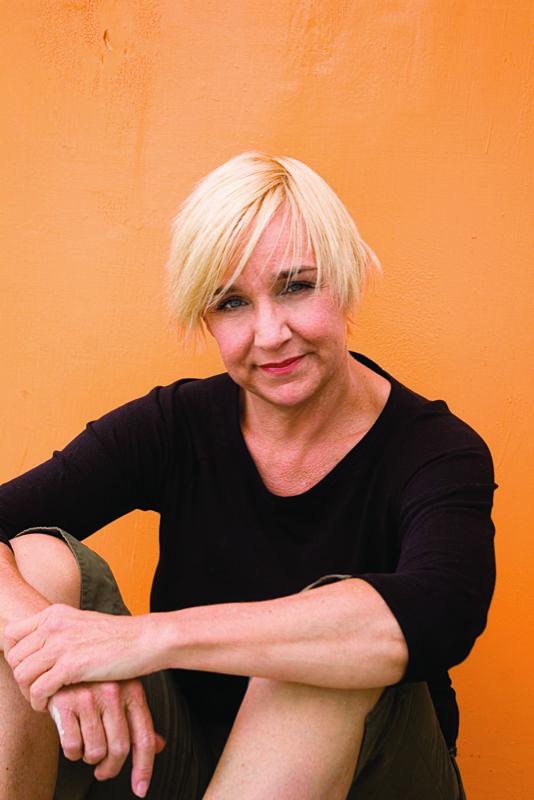 Photo by:
Courtesy Lisa Jenkins and Mesa
Landscape designer Julie Bargmann wants to ensure that degraded postindustrial landscapes are not viewed simply as "problems to be fixed. They're much richer than that," she insists. Dubbed "the Queen of Slag" by The University of Virginia Magazine, Bargmann, through landscape design, focuses on regenerating blighted landscapes: abandoned railroads, former manufacturing and mining sites, landfills and other brownfields. The resulting innovative and sustainable places she creates pay homage to what came before while offering a community something distinctively new.
Bargmann was part of the team that created a "regenerative park" in Vintondale, Pennsylvania, where a former coal mine and coke plant had become poisoned by acid mine drainage. The design for AMD&ART Park includes a series of filtering systems that function like a "giant ecological washing machine" to gradually, and visibly, transform the site. At the Ford Motor Company's Rouge Plant in Dearborn, Michigan, Bargmann was a member of a multidisciplinary team that developed the design of "phytoremediation gardens" to detoxify the site using plants that biodegrade contaminants. Her most recent major project is the landscape design for Urban Outfitters' headquarters on the site of the Navy Yard in Philadelphia. Ecological strategies there include the planting of native hedgerows that both shade the west side of the buildings and filter storm water.
"I think of these sites as having conflicted pasts," says Bargmann. "But they're part of our culture. I'm equally concerned with honoring the social context and the ecological setting. It's a double-barreled shotgun approach. I'm always trying to defend both." As someone "who speaks for these landscapes that have been out of sight and out of mind," Bargmann often plays the role of provocateur. "I've been known to show up to give a lecture in a hard hat," she admits. She's also gone head to head with those involved with the Environmental Protection Agency's Superfund cleanup efforts. "In the past, these landscapes have fallen under the purview of engineers. It's been a missed opportunity for a more holistic approach led by designers." But that's starting to change. She proudly notes that for a recent remediation project, her firm was contacted first: "We were asked to help select the engineers. Now that's groundbreaking."
Bargmann's innovative approach to design has garnered her plenty of kudos in recent years, including the 2001 National Design Award from the Smithsonian's Cooper-Hewitt, National Design Museum, recognition from Time and Newsweek magazines and CNN. But she gets skittish about being singled out, especially since most of her projects involve collaboration. She teams up with architects, historians, artists, engineers, scientists and other landscape architects, often in tandem with city and state planners and other agencies. She sees herself as part of a growing cadre of landscape professionals devoted to "the cause" of regenerative design. "There were a few people doing this before I got into it, and now there are lots of designers doing this type of work. Landscape architect Richard Haag's Gas Works Park in Seattle was the most notable project that transformed a postindustrial site in the U.S. while preserving many of its industrial elements. He broke that ground," she says. The park opened in 1975.
At Harvard's Graduate School of Design, she was introduced to the idea of being a "design activist," a trend that was developing in the 1980s. She studied with innovative landscape architects including Martha Schwartz, Peter Walker, Laurie Olin and Michael Van Valkenburgh, whom she credits as her primary mentor.
Contemporary artists have also influenced how Bargmann envisions landscapes. While pursuing an undergraduate degree in sculpture at Carnegie Mellon University, she became fascinated with the work of Eva Hesse, who made sculpture from found objects and industrial materials like fiberglass, latex and rope. At Harvard, work by the environmental artist Robert Smithson became a major source of inspiration.
When she was awarded a fellowship by the American Academy in Rome, her research focused on connections between contemporary "earthworks" artists and the Etruscans. "They were the earthworks artists of 800 B.C.," she explains.
Bargmann synthesizes all of these perspectives in her role as an educator. Bargmann joined the faculty of the School of Architecture at the University of Virginia in 1996 after teaching at the University of Minnesota for three years. Her interdisciplinary graduate students engage in real-life research projects of site forensics. "For many of them, these degraded landscapes do not seem marginalized. They're very passionate about exploring the potential of these places."
As founding principal of D.I.R.T. studio, a small design firm in Charlottesville, Bargmann and her colleagues have worked on regenerative landscape projects throughout the U.S. The D.I.R.T. acronym refers both to Bargmann's ongoing academic research project, "Design Investigations Reclaiming Terrain," and the studio's playful motto, "Dump It Right There." With the weightiness of the projects Bargmann undertakes, it seems that a little levity helps to keep things in perspective.
One of Bargmann's design priorities is to use existing materials "with an artistic vengeance." She believes it's just common sense to recycle whatever remains on a site. "It's dumb-as-dirt technology and saves a lot of money." At the Urban Outfitters headquarters, rails that were buried under a 2-inch coat of asphalt were resurrected to become part of the design. Concrete remnants were busted up into chunks and reset as a paving system (nicknamed Barney Rubble) within drifts of native perennials and grasses. Smaller chunks of concrete, brick and asphalt (Betty Rubble) were used as mulch. A huge decompression chamber was salvaged by the Urban Outfitters co-founder to serve as an intriguing focal point.
At the Turtle Creek Water Works in Dallas, Bargmann and her collaborators "recycled" and transformed the entire site of an abandoned historic pump station. It now serves as an imaginative residential garden used both as a children's play area and a space for performances and art installations. A model of sustainability, the design includes only plants that are native to Texas, including a sod roof of buffalo grass. A permeable driveway, made from concrete recycled from the site, eliminates water runoff. The project was an experiment in reusing demolition debris as garden elements. In that vein, the plumbing of the old water filter was rejigged into a recirculating industrial-strength fountain. In homage to the site's history, water flows through the fountain, spillways and tanks, before cascading into a creek.
Despite her high visibility, Bargmann candidly points out that she has few built projects to her credit. "I've been doing a lot of design studies that don't always come to fruition, but these approaches are gaining momentum," she notes. "It takes a lot of education, a lot of time and patience, for people to accept new ideas. Every time a project does take shape, it paves the way for others to be built."
Working with governmental agencies, Bargmann's current focus is to get public officials fired up about regenerating landscapes. "I'd like to get people to see that cities can be both healthy and productive, that these terms are not mutually exclusive." Cheerleading for her cause is clearly a role Bargmann relishes.