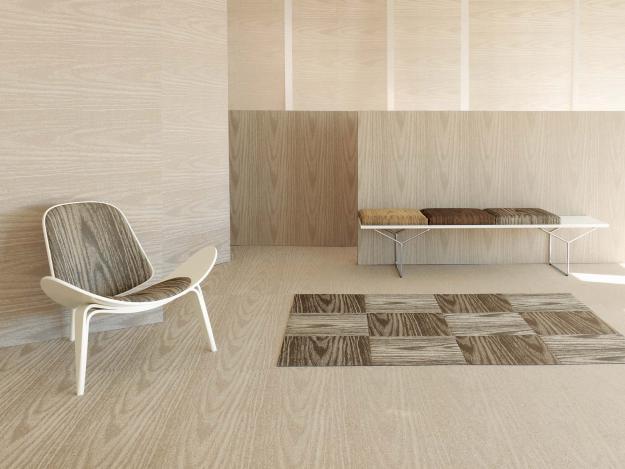 Photo by:
Victor Schrager
Sandy Chilewich is a textile design entrepreneur whose revolutionary and very organic-looking outdoor fabrics are actually made of woven PVC, so they wipe clean. With unlikely, inelegant materials, Chilewich designs the cutting edge by happy accident. For example, her top-selling RayBowls for MoMA Design Store were an experiment using leftover pantyhose (she founded Hue fashion hosiery). Now, Chilewich has turned to the garden for inspiration for her latest rugs, placemats and upholstery fabrics.
Q. You rediscovered vinyl in an unlikely place.
A. Yes, the webbing on 1950s lawn chairs!
Q. And it was all by accident?
A. I tried it for my RayBowls, and it didn't work at all. But I loved the feel of it, and we've adapted it now for rugs.
Q. Yours must be the world's first woven wood-grain-patterned PVC.
A. I see the irony. But I wanted to interpret something as organic as walnut grain in vinyl. We're introducing chipboard next.
Q. And I saw tulips on the studio floor.
A. We've just done grasses. Next, we're experimenting with huge blow-up botanicals for rugs that are not corny, still modernist.
Q. It's not easy, being green. You're unapologetic about PVC, a politically incorrect material.
A. It's actually sustainable. Hotels and restaurants tell me they've hugely cut energy consumption using Chilewich, since it doesn't need laundering. Green is not always obvious.
Q. Do you have one great designer inspiration?
A. Lucienne Day, the British textile designer. It is hard to look at her stuff and not want to copy it. Although I'm very careful not to.
Q. How so?
A. It's horrifying not to do something unique. I like being original. My father taught me to take pride in being the first and only, bringing something new to the table.
Q. So to speak. How does your garden grow?
A. I was an early pioneer on Fire Island with really simple, low-maintenance grasses.
Q. The early adopter gardener.
A. And I'm so busy now; gardening with more than grasses is guilt-inducing.