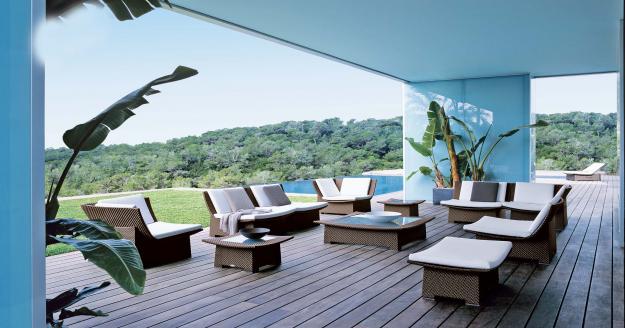 His extroverted design dogma and introverted manner make Richard Frinier a refreshing member of the design pantheon, unsung while quietly prolific. If you've specified, furnished or just plain sat in a stylishly appointed garden in the last 20 years, odds are you know his work for Brown Jordan, Century, Dedon and others. Frinier's design evokes a sense of place, spans traditional to contemporary, and is always about "what's new, what's next."
Q. Do you have an early design memory?
A. My father's displaced car, parked in the driveway. About age 8, the family garage became my workshop, full of experiments.
Q. Can you recall the moment when you realized you were meant to be a designer?
A. I took apart toys and put them back together in a more interesting way. I was fascinated with how things are made.
Q. If we opened your portfolio, what would be the first and last pages?
A. First, a ceramic pitcher for a German pottery workshop in 1972. Last, Dedon's Spa collection, inspired by wellness and relaxation.
Q. You move rather nimbly between styles.
A. As an artist I create for me. As a designer I create for you. The more people I can connect with the better. So it's no surprise that I design in a diverse range of styles — something for everyone to connect with and enjoy.
Q. Do you live with your own stuff?
A. Yes, but with limited space it's like having to choose among your children. In our rustic modern home near Monterey, we have Dedon, my Sunbrella fabrics and lanterns from Currey & Company. We just watched the sunset in our Orbits. Magic.
Q. Can you recall the redeeming features of a design that bombed?
A. The futuristic collection Solaron, in 1984. Two years later the casual furniture industry retreated to the 18th and 19th centuries — where for the most part it has remained.
Q. Nice to have you back! How did you escape?
A. Thanks to the Europeans and a few adventurous American designers, the 21st century arrived on schedule. So Solaron would fit right in today, by the way.