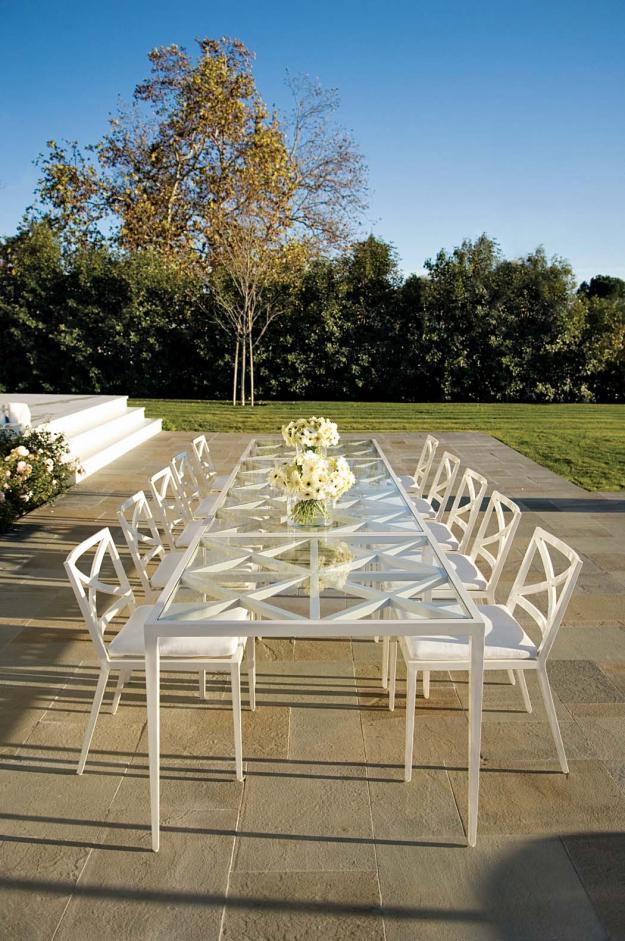 Photo by:
Courtesy JANUS et Cie
Michael Vanderbyl recently launched a stunning collection of neoclassical garden furniture called Azimuth for JANUS et Cie (janusetcie.com). The dean of design at California College of the Arts and a founder of the "San Francisco School" of graphic design, Vanderbyl is also a renowned designer of indoor and outdoor furnishings for Baker, Bernhardt, Bolier & Company, Teknion and many more. He and his wife Anna Hernandez, founder of Luna Textiles, designed their new Napa Valley home — and the Azimuth Collection to furnish it — and lived to tell about it.
Q. What's an azimuth?
A. It's a line you use when charting a course.
Q. Sounds nautical. You designed the graphics for the AmericaOne racing yacht, right?
A. Yes, Vanderbyl Design did the AmericaOne identity. But this reference is military. I was once a drill sergeant in the Army!
Q. Yessir! Well, this is about your furniture.
A. The new collection is all about clean, straight lines. Naturally, what a graphic designer loves — furniture I could live with.
Q. Designers are communicators. So what's your message in the Azimuth Collection?
A. We were missing big, comfortable outdoor furniture. I wanted a modernist treatment of classical forms, to look great in very traditional or very modern gardens. But not be vanilla. I looked to Roman grilles and Le Corbusier chairs to make a fresh language. This is all about true, modern neoclassical.
Q. And the collection is all about outdoors?
A. Designers are recognizing the garden as an extension of our living space: the terrace, pool, cabana. It's all an extension of home.
Q. Home design can be a marriage wrecker.
A. Anna and I have been together for 15 years. And we're freaks of nature — when we built our St. Helena house, we had a ball!
Q. Paint a sensory picture of the outdoors.
A. Our "garden" is the vineyards that completely surround us, cab and zin. After harvest, the perfume is amazing — we can get drunk smelling it! And what graphic designer wouldn't like those orderly rows?
Q. Not unlike your crisp, orderly furniture!
A. Exactly. Our garden is something that fits like a great suit of clothing. I wanted to express that same feeling in the furniture.