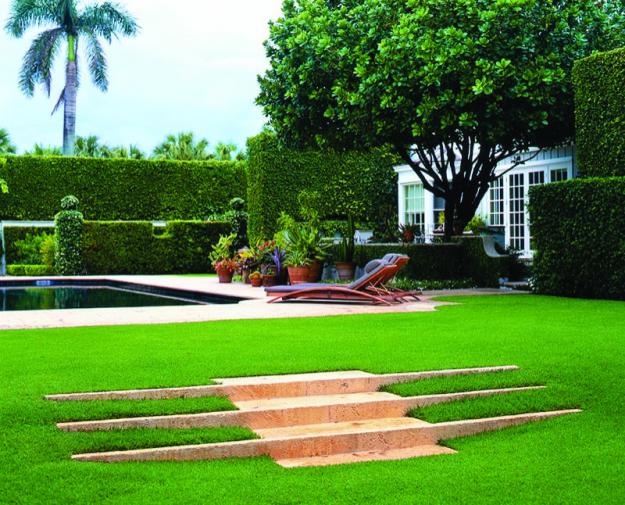 Photo by:
Andre Baranowski
The South Florida coast might be ground zero for Jorge Sanchez and Phil Maddux, but the longtime landscape-architecture team has applied its European take on outdoor living to a golden triangle of gardens from Dallas to the Hamptons to the Bahamas. The Civilized Jungle (Grayson Publishing, LLC) is a photographic record of some 20 years of their work, engagingly articulated with text by Bradford McKee. Jorge Sanchez discusses with Garden Design how his love for architecture, history and plants is expressed in a unique style that marries his appreciation of English gardens with the functionality of those found in the tropics. Says Sanchez, "The garden must be part of the fiber of the home, not a separate element."
Q: To what extent do you participate in the architectural process?
A: Very closely. We have even taken the architect's drawings and flipped them to provide better daylight or better views. Our function is to work from the skin of the house out, on everything from the driveway and walkways to the swimming pool and cabana. If we can't manipulate those elements, then we lose interest in the project. That's where we express ourselves and why we can work in either Palm Beach or Long Island.
Q: How do you ensure that your gardens have longevity?
A: There are certain things that should not change in the garden: the hardscape and the major trees. The other plants can, and ought to, change over time. But the form is always there.
Q: A major part of your gardens is the imaginative juxtaposition of plants. Where in the design process do the plants come in?
A: We analyze the architecture, the place and the clients. By place I mean the topography, the soil and the plant hardiness zone; and for clients we consider their likes and dislikes, and how they will be using the property. We are always experimenting — that is part of the fun. Being Cuban, the tropics are in my blood, and Phil is enamored with tropical plants. Yet, even close to where we live in Palm Beach is very temperate, so we always have a mix.
Q: What can we look forward to seeing next?
A: We're working very closely with the clients and architects on two large projects that are both going to be knockouts: One is in Scarsdale (New York) and is eight-and-a-half acres with a lot of great topographical elements and beautiful formality. The other is a spectacular house and garden in Miami. One day we'd love to do a book just on these two gardens.
For more, see sanchezandmaddux.net