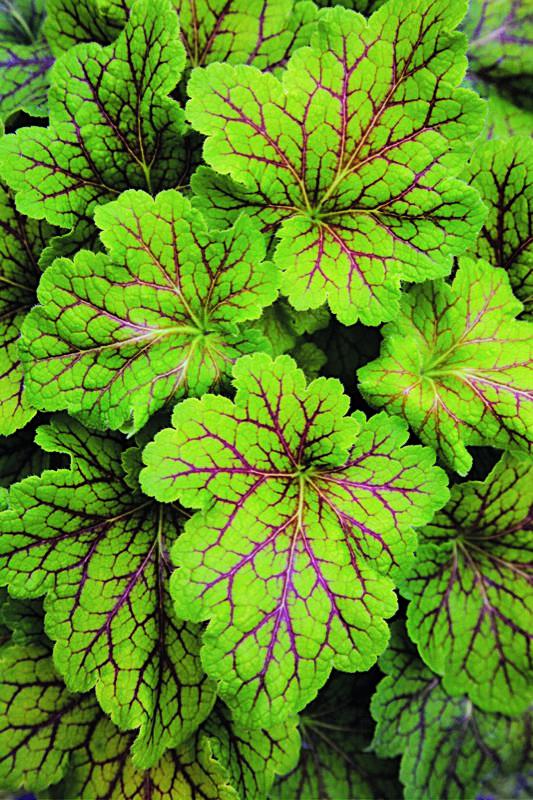 Photo by:
Chelsea Stickel
It all started with a 29-cent velvet plant on his dorm-room windowsill. After that, Dan Heims was hooked on plants. Since then, his high-tech methods have put hundreds of knee-weakening cultivars into the hands of gardeners and designers, produced by his wholesale tissue-culture and breeding nursery near Portland, Oregon. A lecturer, plant hunter and admitted plant fanatic, Heims is credited with making foliage a mega-star in the landscape. Known for his astonishing array of Heuchera cultivars ("No, we're not finished yet"), he continues to be blown away by the diversity of plants: "It's a miracle to see a begonia seed the size of a speck of dust grow into a mature plant with a leaf color and shape that no human has seen before."
Q: Terra Nova wows us with new plants every year. What can we salivate over in 2009?
A: On average we introduce 14 plants annually, but in 2009 some 60 new plants are coming out — including everblooming coreopsis in an entirely new color range and echinaceas that Allan Armitage says will make us completely rethink the genus.
Q: You love all your plants, but are there favorites?
A: Begonia, Heuchera, Heucherella, Calathea, Philodendron. And I have 65 cultivars of Japanese maples in my one-third-acre garden. Walking under them is like being in a cathedral.
Q: Tissue culture is the "brave new world" of the plant business. What got you started?
A: I saw a photo of a tissue-culture lab owner with a bank of Hosta 'Patriot' by his pool. At the time, 'Patriot' was selling for $100 a plant. I asked my future business partner, Ken Brown, who was a food microbiologist, "Could we do a lab?" In three years, we went from "garage band" to rock-star status.
Q: What does a plant need to make you say "aha"?
A: My radar, or "green-dar," is going all the time, and it's easy to become "chlorophyll-blind" when you're exposed to too many plants. It takes a plant with a real wow factor to grab my attention, like a flower or leaf color that didn't exist before. But I'm never jaded — it's the best kind of work.
Q: Do you see yourself primarily as a scientist?
A: I'm a hybrid between a lover of technology and a lover of nature. My most romantic vision is the mossy woods on the Olympic Peninsula. Anywhere there is light, moisture and a bit of soil, there is life.