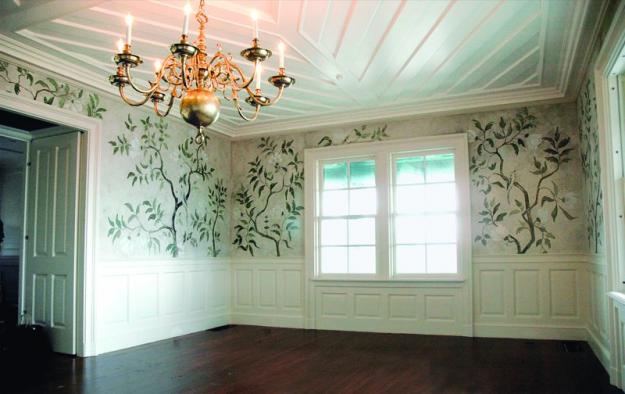 Photo by:
Courtesy Clifton Jaeger
Clifton Jaeger is obsessed with trees — beautiful, ghostly trees that fill the murals and photographs he creates for clients as diverse as top-flight interior designer Bunny Williams and The Peninsula hotel in New York. The 44-year-old Jaeger recalls reading that in feng shui one thing that can really help a room is an image of a tree.
Q: As a struggling young artist, did you suddenly say to yourself one day, "That's it — trees!"
A: Actually, I started using trees to solve design issues. I've been painting murals for 20 years, and over time I discovered I could use trees in the corners of a room as architectural elements.
Q: Why not just use a building?
A: If I add a building to a mural, I think the viewer is distracted by whatever preconception he has of that architecture. If I paint in a Chinese pagoda, it's contrived. If it's just nature, the possibilities for imagining that place are broader. I live in northwestern Connecticut where I'm constantly looking at structures and compositions based on nature.
Q: Did having a family change your approach to work?
A: Oh, yes. My girls are 9 and 11, and when they were born I was crazy busy painting, lots of commissions. I'd have paint all over me that contained cadmium and lead and chromium. Now I mix my own paints, for instance I get 5 gallons of milk from the organic dairy farmer down the road, let it curdle and make paint. It's based on an old Roman recipe. You can still see vestiges of it on the ruins there.
Q: Nothing's quite that old in Connecticut, is it?
A: Not quite, but there's this 250-year-old sugar maple in my front yard that someone told me might be one of the bigger ones in the state. It's the whole reason I bought my house.
Q: You don't seem to have any trouble distinguishing trees from forest. Any favorites?
A: Oh, I have many favorites. I recently became obsessed with a unique grove of trees — sugar maples, birches, ash and oaks — in an old cemetery in Cornwall. I drove by them every morning taking my kids to school, so for six months I stopped every day. I was just photographing to make art. But when I e-mailed a designer my photos, she sent them to Hilton, which asked to use them in a new hotel.