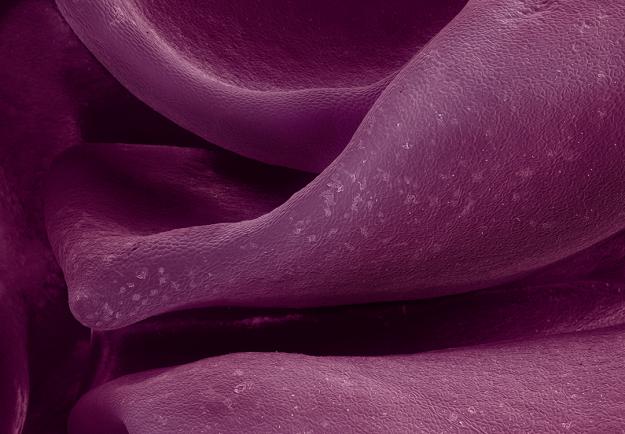 terra cibus no. 39: cabbage
"Looking up close at food has given me an opportunity to think differently about the beauty in everyday objects," says photographer Caren Alpert. Based in San Francisco, Alpert combines her love for photography, food and art in images shot with a scanning electron microscope. An exhibit of her work, titled "terra cibus" will be on display at the Missouri Botanical Garden from September 6 through November 22. Admission to the garden is 8 dollars for adults and free to St. Louis residents until noon on Wednesday and Saturday.
According to the Missouri Botanical Garden, "Alpert captures the microscopic, almost other-worldly surfaces of common foods such as Oreo cookies, shrimp, leaves and candy, turning what might normally be a scientific endeavor into fine art." Other foods featured in the exhibit include salt, cauliflower, pineapple, cabbage, radish, celery and more. The exhibit supports the garden's 2013 theme of "Foodology: Dig In."

terra cibus no. 33: pineapple leaf (Photo by Caren Alpert)
Many of the items Alpert photographs may be growing in your own garden, however, you may not recognize them under such intense magnification. By revealing the ordinary in a riveting way, Alpert says that this project has changed the way she views and consumes foods and hopes it will do the same for others.
Fine art prints are available in limited editions through the artist directly at www.carenalpertfineart.com.
The Missouri Botanical Garden is located at 4344 Shaw Blvd. in south St. Louis.