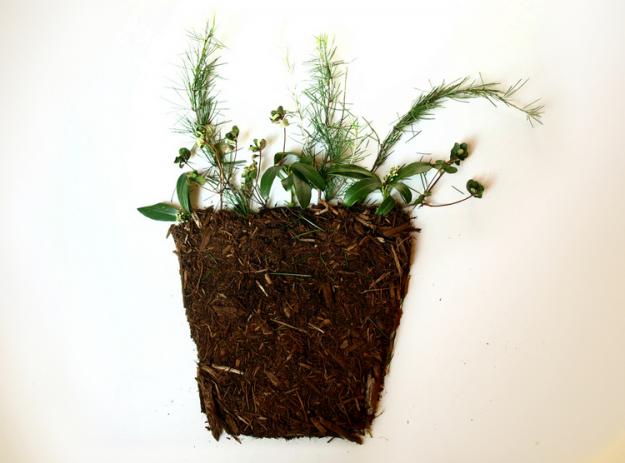 For gardeners who can't see beyond the splendor of flowers and foliage, New York illustrator and photographer Sarah Rosado is opening their eyes to the ugly duckling of the garden bed by transforming ordinary dirt into whimsical works of art. For her latest project, which she calls "Dirty Little Secrets," Rosado reveals not only the hidden aesthetic potential of soil, but also its ability to convey a meaningful message.
"Most people see dirt as something yucky and disgusting. I wanted to show that dirt can be beautiful and appealing," she says. "I had seen other artists do art with food and other objects, but I had never seen art with dirt."

Not-so-ugly duckling; Sarah Rosado.
Rosado shapes the dirt into everyday objects, people, or fanciful creatures and adds accessorizes such as bows, plastic cutlery and even burnt toast to help tell a story. So far, she has completed 50 "Dirty Little Secrets," with the goal of finishing 100. She doesn't preserve her work. Once the image is created, she photographs it and destroys it. "What is intended for display is the captured picture image," she says.

Ants carrying discarded bread; Sarah Rosado.
One of Rosado's favorite pieces is a smoking gun with a barrel pointing upward and red hearts wafting out of it. "There is a very serious problem in our society with guns in the streets and senseless murders, so the smoking revolver sends the message that we should choose peace and love instead of crime," she says. Other favorites include a tuxedo with a bow tie, buttons and red rose on the lapel, and a little duckling strolling in the grass. "The tuxedo is an example of formality and the duckling of family unity. Each image has its own meaning. Viewers can decide what they really see and what it means to them individually," she says.

Tuxedo; Sarah Rosado.
Even though Rosado has a fondness for using dirt as an art medium, she is full of reverence for its value as a botanical anchor. "Dirt is very important. Without it we wouldn't have any trees, fruits, vegetables or flowers," she says.
To see all of Rosado's "Dirty Little Secrets," visit her website at www.sr-artwork.com.