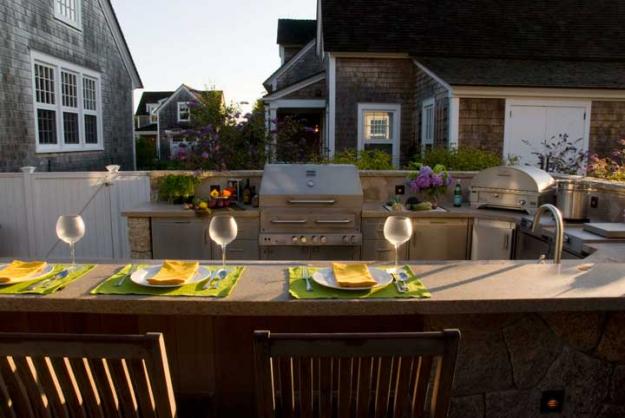 The best outdoor kitchen designs are nicely incorporated into the entire outdoor living plan and blend well with the garden. Designing an outdoor kitchen requires more than just selecting complementary materials and finishes. It requires a sense of appropriate scale, thoughtful placement, and most importantly, it benefits from transitions.
Your home is relatively tall and massive compared to the scale of an outdoor kitchen. A pergola, arbor or other transitional structure that adds height will make an outdoor kitchen feel more like part of the home. Take a look at the gorgeous shade panels made by Parasoleil. The possibilities are only limited by one's imagination.
Plantings in and around the outdoor kitchen do the same to help an outdoor kitchen feel like part of the garden. Bring some of the same foliage, textures and colors from the landscape into the plantings in the outdoor kitchen. Make a dining table with a planting trough down the middle. Grow vines on the back of the kitchen. Set planters on the countertops. Again, the possibilities are endless.
The flooring for the kitchen can transition nicely into the garden. The same flagstone that is densely paved in the kitchen can gradually open up to stepping stones as they make their way into the yard. On the same topic, designing multiple paths in and out of the kitchen is another important aspect of transition.
These design elements can make the difference between an outdoor kitchen that is at home in the garden or one that disrupts it.