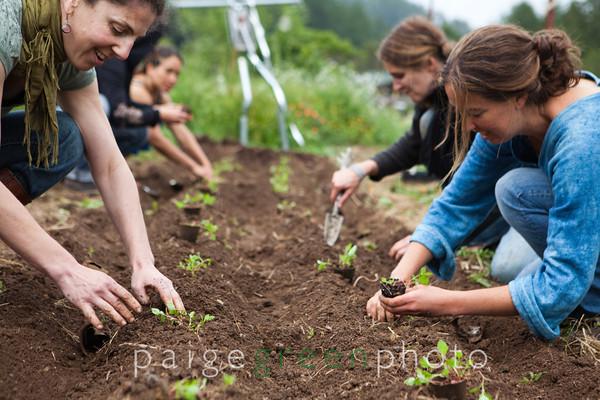 Members of Fibershed plant indigo plants, commonly used to dye fabric and yarn.
Eating locally has become a common trend for foodies, but Rebecca Burgess, author of the book Harvesting Color (which we reviewed in an earlier post) takes the idea of living locally in a new direction: dressing locally. Last April, Burgess started her project, called Fibershed, which is a "one year challenge is to live in clothes that are solely farmed, created, treated, and colored all within 150 miles of my front door." This also includes any dyeing, which would be done with local plants.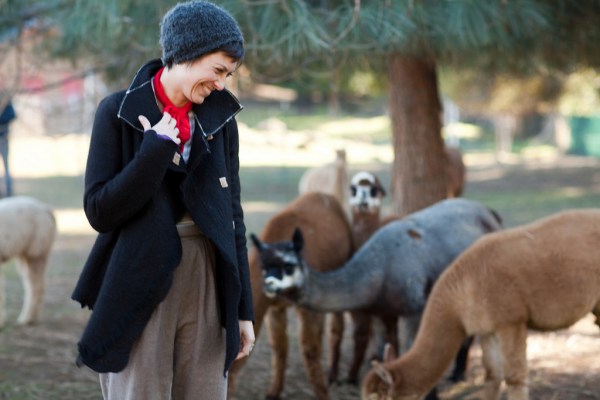 Artist Mali Mrozinski stands with a herd of alpacas, who provided the wool for her coat. Photo from fibershed.wordpress.com
On her site, Burgess explains the reasons behind her challenge, including the disconnect that we create between ourselves and our clothes when all of the materials and manufacturing for our garments are being created far from our homes. She points out that almost all manufacturing in the United States has been closed and that thousands of pounds of wool, left over from meat production, are thrown away each year.
Similar to the movement toward eating locally, Burgess's Fibershed emphasizes the connection between the producer—whether it's the sheep farmers or the mills—and the user. And much like the trend toward learning to butcher your own meat, the Fibershed movement is hoping that learning to cultivate, process, and create your own clothing will make consumers more aware of time and materials involved in creating, say, a shirt.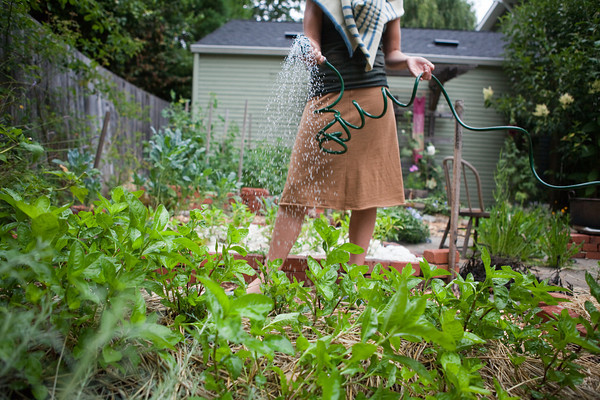 Watering the indigo plants. Photo from fibershed.wordpress.com
As a long-time knitter (and someone who received weaving lessons for a Christmas present), I was very interested in Burgess's book (which is really a beautiful volume, by the way) and her Fibershed challenge. Inevitably, l think that people who try to follow in her footsteps will come across their own limitations, whether it is practical (such as having the time to knit multiple pairs of socks before the winter, for those of us who do not live in California) or habitual (the lure of off-the-rack clothes, much like the temptation to eat out-of-season strawberries). But nevertheless, her project is a good reminder to become more aware of the many different resources being used to manufacturer clothes and to consider our own involvement in local industries (such as our own gardens) before automatically buying something that we might be able to make ourselves.
I know many of our GARDEN DESIGN readers are interested in environmental issues and crafters, so I'm interested in hearing what our readers think about trying to "dressing locally" in addition to "eating locally." Tell me in the comments!